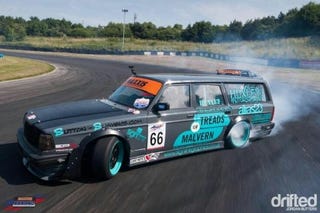 After I saw this photo on Tom's article, I decided to write this concerning a recent development.
My two brothers and I have officially decided that we are going to buy an old Volvo wagon off of Craigslist and tune the crap out of it.
Since a good number of your Oppos are obsessed with and/or owned tuned Swedish longbacks, we though we'd ask you where to start. Are engine swaps worth it?
What about gracing the roof with a long solar panel and using electric racing motors for increased acceleration?
My brother wants to bag it. I want to put lowering springs on it.
Please help us design the ideal tuned Volvo wagon. Please, name specific years, tuning parts, wheels, colors, powerplants, lights, anything.
This is gonna be epic.