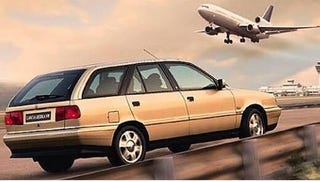 I give you the 1994-99 Lancia Dedra 2.0L 16v Wagon Integrale. Never heard of it?
It's an AWD Lancia wagon with a 16v 2.0L engine. While earlier Dedra sedans could be ordered with the Delta Integrale 8v's 185hp turbo (shown below), by the time the Dedra wagon bowed in 1994, Lancia was phasing out the Delta and its world-beating engine.
So the best you could do in the AWD Dedra wagon was the twin-cam 16v 2.0L NA four-pot. It only made 138hp. Or about as much as the original Delta HF Turbo did.
And hardly anyone remembers it. And it's a 5-speed AWD Lancia wagon. How much more Jalop can it be?