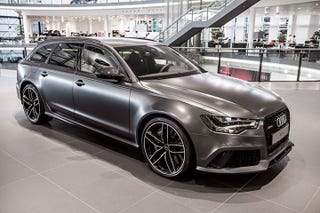 This is Jalopnik's identity crisis. There is no reason to hate high-performance SUVs. Yes, but Wagon. I actually agree with Travis' article AND the Jalop creedo that wagons are awesome. How is that you ask? Because families. So let's delve into why you actually need a vehicle larger than a Miata in the first place. Offspring (children, not the band).
I'm sure many of you will swear that any family of 5 or more can live with a wagon as their largest vehicle. I'm not sure I see it though, which is why I think that 5 is the magic number of household members to help determine the outcome of this crisis.
Four or below? - Wagon!
Five or above? - SUV!
Why is that you ask? Because 3rd row. If wagons could safely pull off the rear facing 3rd row, this would be less complicated. Currently I have two kids and a wife, and I am fairly certain that I could make a wagon work. Plenty of room for everyone and a large cargo area in the back for weekend bags or autocross tires (because why wagon if you don't wagon fast).
However once you add the +1, especially in a rear facing baby seat, you are more than cramped. Depending on the wagon, the first two born will quickly start to dislike their new sibling as their faces are crammed against the rear door. Can it work, sure! But anyone who has owned a 3-row SUV (or *gasp* a minvan) knows it can work better. The new baby brings with it lots of stuff. Stuff that will quickly fill the rear cargo area of your wagon. So that brings us to this beauty:
Now I'm sure lots of people will come out of the woodwork and say they made due with their wife and three kids in a Miata, ok maybe a diesel Volvo wagon. But in an era with so many options, why cram yourself into a smaller car? Economy is one point, and it's fairly valid. Until you start talking about the wagons we tend to enjoy, those with big V8 engines.
So economy isn't exactly a plus in this sense. And the larger wagons are generally expensive. Along with our, V, AMG and RS poster children, the more pedestrian versions of these cars aren't that cheap. In that sense, let's compare German apples to German apples (sort of).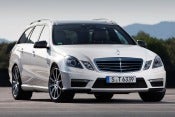 E63 AMG 4dr Wagon (5.5L 8cyl Turbo 7A)
vs.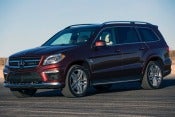 GL63 AMG 4dr SUV AWD (5.5L 8cyl Turbo 7A)
MSRP
Both are easily 6-figure cars, the wagon coming in quite a bit less in MSRP.
Powerrrrr
Both have 5.5L V8s producing over 500hp. and 500 ft. lbs
Tranny
Both have 7spd automanuals
Seating
Both seat 7. Wait, what? The E-class has the folding jump seats, so apparently you can seat more than 5 in a wagon? Case closed! Well, actually no, you won't have room for your stuff since these "seats" cover the rear cargo compartment.
Features
They are both AMG Merc's, they're loaded. It's a wash.
Maximum cargo capacity
Wagon - 57.4 cu.ft.
SUV - 93.8 cu.ft.
Oof, that's a tough blow to the wagon crew. And this stat is probably not with the rear seats in place in the wagon.
Maximum towing capacity
Wagon - N/A
SUV - 7500 lbs.
I'm sure the wagon can tow something, maybe Edmunds didn't know, or figured no one would. But if you want to haul even more, toss a trailer on there. Because racecar.
Conclusion
So what does this all mean? If you are part of the wagon crew, nothing. You still believe that a 1996 Volvo 850 T5-R (EDIT: or Roadmaster Estate) would do what you need it to do and is the answer to this question. But most families don't want a car that, if it were one of their children, would be old enough to drive. Or they don't hate SUVs (or god forbid minivans) and have embraced them as the best option for their family.
But that's what makes us Jalopnik material I suppose? Is "because wagon" always the right answer even if it's not the most practical solution? Or is there a point where you have to admit you need more room? Discuss amongst yourselves.