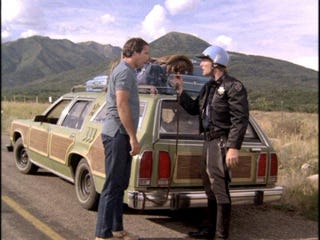 For those looking for some trivia. Thanks Wiki...
The Wagon Queen Family Truckster is a station wagon created specifically for the 1983 comedy National Lampoon's Vacation. The Truckster is based on a Ford LTD Country Squire station wagon that has been heavily modified.
The car was designed by George Barris (famous for other Hollywood custom cars such as the Batmobile, and many others) and was deliberately designed in bad taste as a ridiculous station wagon, with absurdly over-the-top styling. The Truckster features overdone wood paneling, eight headlights, four on each side in a rectangular cluster -taken from another Crown Victoria/Country Squire, but inverted-; a grille area largely covered by bodywork having only two small openings close to the bumper, similar to that of a 1982 Oldsmobile Toronado; a separate oil cooler grille, but no oil cooler; large chrome hubcaps with a huge crown logo; and a badly placed fuel filler access door in the front passenger-side fender. Lampooning American cars of the 1970s, the engine knocked and rattled after shut down in a supposedly brand-new car, fitted with extremely brittle window glass, and had an airbag fashioned from a household trash bag.