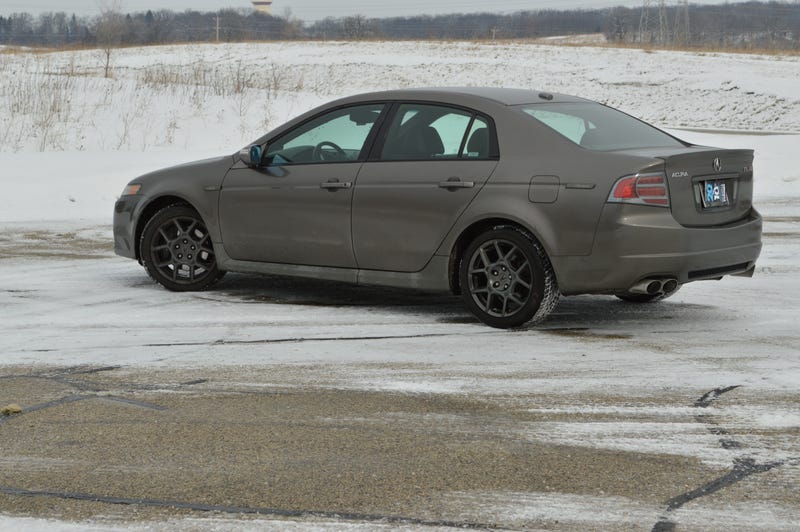 With the news of Acura splitting (sort of) from its parent company Honda, this article should be viewed as a PSA towards Acura on what to do and what not to do. Hopefully this helps them get back on their feet.
Before Acura decided to commit the most heinous of sins in the car world, becoming boring and marginal at best, and like Tom stated in his article on TheSmokingTire they lost focus, they went out on one last batshit insane car. No, it's not the NSX-R, or anything racey like that. It's one of their most popular sellers, the TL. Now most of you know the TL as that car that the quirky dude in your office drives. He's a bit well off, most likely works in IT, and likes Honda's or Japanese cars(sorry Jay I had to pick on you!).
The TL is an upmarket Accord with much better styling and four doors, so it's practical if you have a family or many friends with actual legs. It's a good car, albeit a bit boring. Especially the new ones.
(YAWN)
Acura of late has been making nothing exciting, nothing ground breaking. Part of this is due to the fact that Acura is owned by Honda and Honda as a brand has been going the same direction that Toyota was going in. They want the crucial beige economobile market. Granted that actually is a big market, but Acura used to put out cool things like the RSX, or Integra, or the granddaddy of them all, the NSX. They used to build cool cars, they used to be exciting, then something happened. All of a sudden they stopped making cool cars and started making driving parrots?
(Polly want a Market share)
Sure they keep promising us a new NSX and teasing us with pictures and some videos, but they have been talking about that car for years and years. It will probably never happen. But before all the parrots, and before all the hateful crap they are putting out currently, the put one car out as a last hurrah. The TL-S.
(Full disclosure: My cousin wanted me to drive this car so much that he leant it to me as my first non-official press car! He did take my car as collateral, but I still, I got my first press car!)
Driving notes: HOLY MOTHER OF GOD! I had driven this car a few years back and completely forgotten what an animal this car actually is. Power is sent through the front wheels and the front wheels only, via a 300hp 3.5liter V6 and a 6 speed manual. The first two gears go by so quickly that you are at the other end of the block before you know it. To say this car is quick is an understatement. It's freaking quick. Also completely insane. 300hp going to just the front wheels is a recipe for disaster, and that's what this car is, a disaster, but not in a bad way. It's like reigning in chaos. And here comes the nerd in me. It's Loki from Marvel, he can be a good guy like in The Dark World, but when he wants to, he will take your head off and put it on a pike just for shits and giggles.
This is how you drive the TL-S in normal everyday driving mode. La di da, here we go, off to work, chillin in my luxury car, look at this awesome full screen NAV system, oooh it has a back up camera, that's nifty, wow this car is so quiet out on the highway. Now here it is when you engage VSA. TORQUESTEER!!!! UNDERSTEER!!!! TORQUESTEERING!!! WHEELS ARE STILL SLIPPING AND IM IN 3RD!!!!!!!! AHHHHHHHHH!!!!!!
(My best Clive Owen impression)
Then you let off the throttle and everything just calms back down. You are then back to driving a reasonable vacuum salesman's car. You are instantly transported from insane car trying to actively kill you to this is really a nice car that is warming up your butt. And warm it does.
This is the kind of car Acura needs to make, very comfortable driving at everyday normal pace, but when you put your foot down all hell breaks loose. The TL-S is a wonderful car. Brilliant I would even say. The seats are a bit too high for me personally, but according to the internet I am a giant so I can't really complain. Matt Farah I now know how you feel about all those fat comments, we should team up and go kick some internet troll ass. But I digress. The seats being a bit too high for my liking would not be a deal breaker for me. Even putting Premium in it wouldn't be that bad since it's a relatively small tank, I believe only around 16gallons. And for those waiting for the other hammer to drop and say this is why I wouldn't buy it, keep waiting, it isn't coming. I would get this car. It's the right type of madness. A rather boring everyday commuter when you want it to be, and a psychopath when you press the loud pedal, although the loud pedal really doesn't make it that loud because of all the insulation and sound deadening material in the car, which is odd with a car that is sporting four exhaust exits!
(Four good)
Somehow, a group of engineer's sold Honda an axe wielding, riot starting, ass kicking, four door insurance salesman's car in a time when they were making the dreary Honda Insight Hatchback…..I think I just nodded off what was I talking about? Oh yeah axe wielding maniac. How did they do this! How did this get sold to the corporate big wigs? Someone must have said that they should go after BMW or Audi or Mercedes, but, "we can do it for a fiver", and so they did. However, instead of AWD or RWD, 300hp FWD will do just fine! Let's throw caution to the wind and go for it!
So a long time ago (6 or 7 years), Honda went mad and put this on sale to the public. Ever since then, it's just been a stream of beige on beige cars, nothing really that exciting. Acura used to make cool cars, and with the newly announced divorce between them and Honda, albeit a hollow divorce, maybe they can build something cool again? The NSX is totally happening people, it's coming down the pike, next year you will totally see something cool. It will be a total gamechanger! Or maybe they won't and it will be like Raph's second part of his Baja Bug story, but after driving that car, there has to be at least one engineer just as mad as the guy who made the TL-S…I hope.
You can follow me here on Twitter.
Also check out my Ferrari and Tesla articles
Check out also my stuff on TheSmokingTire!
Photo Credit to Acura and Jonathon Klein