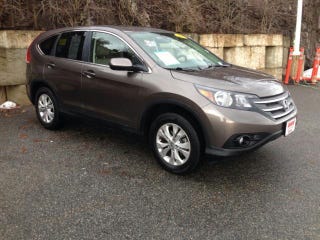 Do not read if you are tired or about to operate heavy machinery. This post is about a CRV for my wife.
No, sorry I did not mean BRZ. She does not want a Fiesta ST or an Abarth 500. She wants a CRV. The golden rule in marriage is "happy wife, happy life", remember that kids
Anyway, my wife wants to ditch her Civic for a crossover. She's pretty much settled on the CRV after looking at a few others. It's the one she wanted from the get-go. She requires a backup cam and heated leather, which puts us in an EX-L trim level. L for leather, get it?!
We were planning on buying new. If you read Automatch's post earlier, sometimes it just makes sense. The CRV is the top selling vehicle in MA, if not all of New England. They're everywhere! Just one of the four major Honda dealers in the area has 180 new crv's in stock alone! Hell, there's 3 in my neighborhood, two are the same color! The used car market is overly saturated with used CRV's, we'd only be saving a few hundred bucks and we'd end up with a car with a years worth of milage.
BUT, it pays to do your homework, so I checked for used CRV's anyway. That's where I need youz guises's help.
I found a 2013 with only 6800 miles in Kona brown (our dog is named Kona, so guess which color she wants...) Its listed as an EX, but it's got heated leather seats and a Nav. That's where I'm a little confused.
I believe these were dealer installed options. You can't build this car on Honda's online configurer. Leather isn't an option on the EX, and neither is the navigation. The EX-L also adds roof rails and a dual zone A/C, both are absent from this car.

No roof rails

No dual zone A/C. The seat heater buttons don't look like the ones on the EX-L we test drove and they are in a different location.
So am I right to assume the seats and navigation were installed by the dealer? What should I look for to be sure everything was done correctly?

Leather seats

Clearly leather with a Nav screen. Seat heater buttons are next to the shifter rather than down near the cup holders. Rear camera is hooked up to the screen in the cubby rather than on the navigation screen.
My next question is about the pricing. The dealership is the used car super store of one of the local giants. This guy has everything from Toyota and Honda dealerships to Ferrari and Maserati. He sends all his trade ins to this one lot. Side note, he has a 288 GTO, F40, F50, and an Enzo in his Ferrari showroom. Sorry, back to beige... They've got this CRV priced between what a used EX and EX-L trim go for. It's better than an EX but doesn't have everything the EX-L trim would get. Would the leather and navigation command that much of a premium over the EX, or should I treat it as an EX because that's what it is?
Last question, who trades in a new car with special options after only 6800 miles?
TL;DR my wife wants a new CRV EX-L. I found a used EX with leather and a Nav in the color she wants with 6800 miles. It would save her $2k off the top and also give her the navigation. But is it legit?
NSX for your time and to snap you out if the beige!