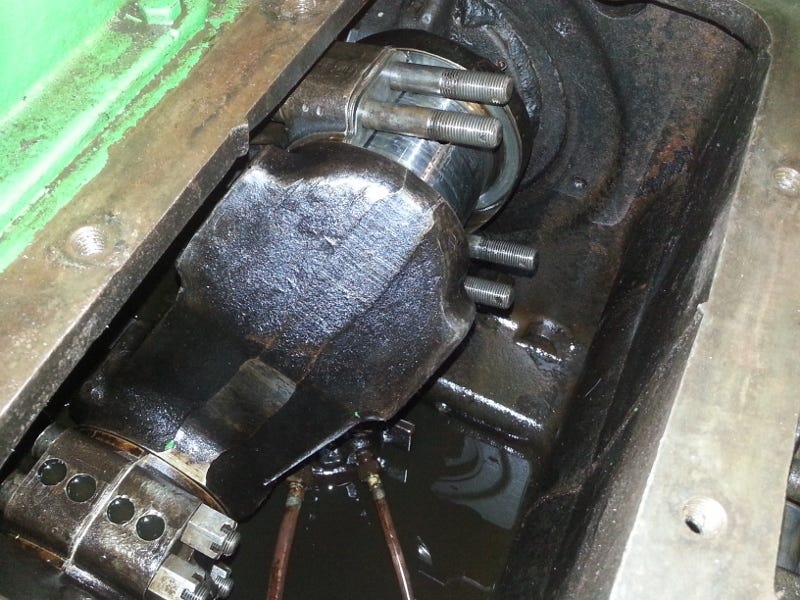 ... on a John Deere "D". Yes kids, this is how it was done "back in the day". And today, apparently.
All you whippersnappers think you're so great with your interchangeable parts. Not back when this was built. No, you put the bearings in the connecting rod, attach the cap, torque it down and check the slop. Remove cap, add or remove shims as needed, attach the cap and repeat. Yep, this is how it was done...
Although today we used a dial indicator with a magnetic base to check the clearance. Oh, it might be possible to use plasti-gauge, but a great big oiling slot in the bearings tends to make that a bit of a problem. At any rate, the dial indicator method works, too.
Of course, if you have never been around vintage agricultural equipment, it is hard to get a feel for how massive this stuff is by looking at a picture, at least compared to automotive engines. Yes, it is "only" a two cylinder engine. But, take note that the connecting rod caps use four bolts to secure them to the rod. No, not four bolt mains (aka small block Chevy); four bolt connecting rods. Very cool, very beefy...
The engine has a 6-3/4" bore and 7" stroke... 500.7 cubic inches in two cylinders. That's 8.2 liters for those who are metric minded... 4.1 liters per cylinder. Yep, two whole Coke 2-liter bottles worth of swept displacement in each hole, with a sip left over.
Dad was shimming the rods for a friend; I got invited along to help. I thought ya'll might enjoy a glimpse into the crankcase of an old tractor...