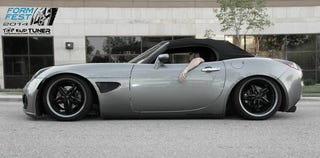 Pontiac. America's performance brand. And you can own a sweet, sweet example of that excitement with this customized 2006 Pontiac Solstice, with only 98K miles on the clock, for only $26,000. That's a pretty sweet deal, Wade.
First, off this baby's souped up to 190-195 HP. Maybe more. Or Less. The seller isn't sure, because he hasn't dynoed it. Oh, and the convertible top won't open, because of the stereo and air suspension system. There's some paint scratches, and the windshield is cracked. Other than that, this is a show-winning custom beauty.
And there's not gonna be any haggling over price, because this seller's in no hurry to sell.