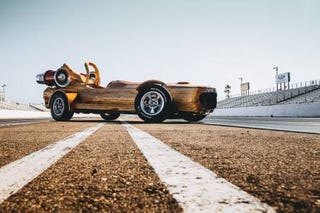 It's dubbed the fastest log on four wheels. Yes, log.
Hard to believe a car can be made out of a tree? Well, you can see the Cedar Rocket for yourself in Kelowna this June.
The Guiness world record-holding log car, made out of a 240-year-old Red Cedar, will be rolling into Kelowna June 3 as a main attraction at a Canadian Kidney Foundation fundraiser.
It's being brought in by HGTV's Timber Kings star Brian Reid Sr. and will be on display between 9 a.m. – 1 p.m. at Savoy Equipment.
"We are extremely excited to host Mr. Reid and this very special car. We have been working for quite some time to bring it to Kelowna and we hope to raise a notable amount for the Canadian Kidney Foundation," Savoy Equipment marketing manager Ally Turner said in a news release.
Admission to see the Cedar Rocket is by donation.