UPDATE BELOW:

While two wheels good, four wheels would be a LOT better.

Couple #2 sold their non-touring motorcycle last year because they wanted to upgrade to a touring bike. I'm glad, because wife #2 was only good for a three hour day with the little pillion they had on their bike. While I liked his Dyna, it would have been miserable for this trip.
Photo: YouTube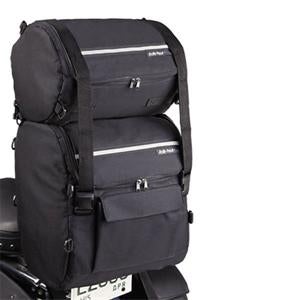 We have had a rough route planned and hotel reservations for a while. Four days riding to get there, a few days there,4-5 days 5-6 days to return.
Thinking ahead, I bought Mrs McMike a rain suit, so we're good to go. The only problem for us was when I showed her how much room she had to work with, and that she had to pack for two weeks in sissy bar luggage.

We got together the other day and hammered out some more details about the trip, and even added in the Tail of the Dragon on our return trip.

The only detail we haven't figured out yet is what motorcycle they are going to to ride, since they have not picked one up yet. We leave on Aug 1.

Nine days until the 3600 mile shake-down run on whatever he finds.

Nine. Days.
Update: Just got a text from couple #2, a (decent) used bike dealership just quoted him $15.8K out the door for a sweet 2010 FLHTK with about 20K miles. 30 day warranty and a full service.

Retail sale of these are all over the place from $16-20K, so of course I told him to drop what he was doing and go get it.

While these Ultras have too much fiberglass for my tastes, these Limited models are really nice, and I don't have to worry about helping him source a backrest and luggage rack in under a week.

I'll still ask him to get a list of what was included in the "full service" in case there is anything we need to knock out in the next week.

He's going to go take a look at it on Saturday. We are one step close to #2couples2bikes