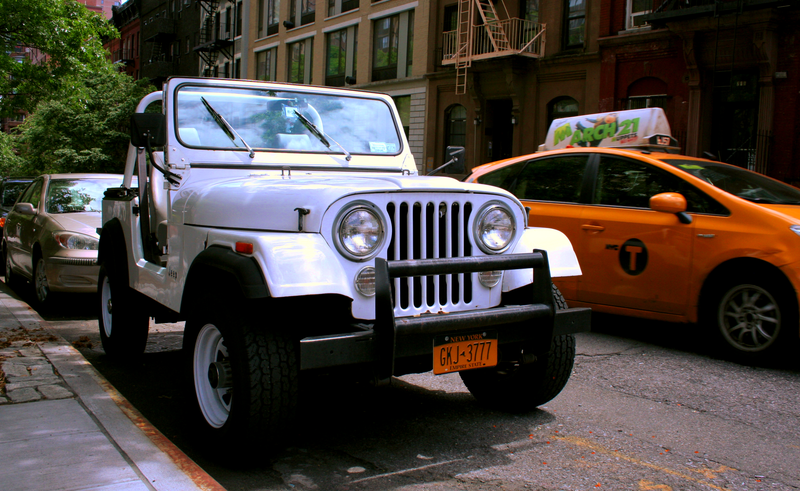 Just some bits and bobs from my neighborhood this weekend. Some Benzes, an Aston, an old Caddy, an R32 Golf, this CJ-7, and more for your enjoyment!
The Grand Cherokee is a quality vehicle and the Wrangler is still one of the most off-road-ready production trucks on the market, but I think this is what Jeep needs to get back to - metal dashboards and bigass knobs. I wouldn't mind a center-mounted speedo in the next Wrangler either, but I'm weird like that. Anyway, am I right calling this a CJ-7? It could be a 5 I guess but the black plastic on the wheel arches makes me think 7.
The new Renegade is all well and good, but it likely will remain a slightly better than average soft-roader coasting by on the pedigree of the brand and the capabilities of its stablemates. If Jeep wanted to make a splash, I think they'd have been better off rebooting the CJ. A smaller, stripped-down, open-top Wrangler would probably sell in minuscule numbers, but it sure would make us happy.
I've always thought the location of the filler makes the car seem like a toy for some reason.
It seems like there's a consensus out there that this is the best BMW wagon (in M form)? I prefer the E39.
[foghorn]
Just a big ol' slab.
If you ever find yourself on the Upper East Side, Milano Market makes top-notch sfogliatelle and cannolis.
I don't have anything funny to say about this!
I swear this F250 was over 20 feet long.
Here we see the wild G63 AMG in its natural habitat - Madison Avenue. I actually saw two more driving around about 20 minutes later.
When I was a little kid my mom got a new Volvo 850 Turbo wagon, and I remember thinking that the headlight wipers were the classiest fucking thing my six year old brain had ever seen.
Those two dopes in the background ruin the picture. Especially pink hat guy.
I've never seen one of these in person before. The flared fenders are especially nice.
I took a few more pictures up close, but then the hazards flashed and the horn beeped - whoever owned it was probably watching me ogle his beauty and pressed the lock button to scare me off. It worked!