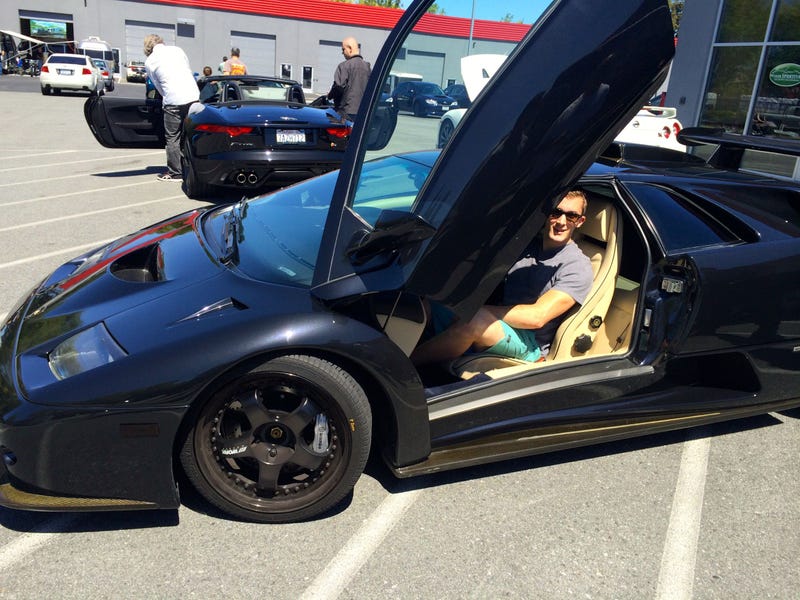 This weekend was supposed to be filled with fun and driving in the gf's new BMW 228i, however, BMW ruined that when they decided to make a critical error in her custom order. 8 weeks of waiting, and we show up to her perfectly optioned Estoril Blue, M Sport 228i.... in autotragic. Without a man-pedal, stickshift gearbox, we left the car at the dealer and now are waiting another 8 weeks.
The silver lining to this story is our experience at a local car show, Cars & Caffeine.
We rolled in to see a myriad of collector cars, custom race builds and the occasional Testarossa, Gallardo, GTR, R8... and the mother of all
A Lamborghini Diablo GT 6.0 with the carbon fiber kit, brembo brakes, Work wheels and full straight pipe exhaust. The owner was a nice gentlemen, very open to conversation about his unique car and extensive collection.
He was then kind enough to let me sit in the car and join a few others (F-Type V8S) on a short cruise through the Santa Cruz mountains. I barely kept up in my chase car FR-S. What a symphony of noise.
and revs