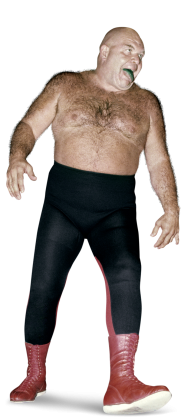 Photo: WWE Hall of fame
True story: in about December of 1984 my uncle Rob - the cool uncle for sure - took me to a WWF house show at the Cambria County War Memorial Arena. I remember at the time my favorite wrassler was George "the Animal" Steele because he was fat, old, and weird. He was on the bill, and so were Lanny Poffo - with his poems on frisbees, Junk Yard Dog, Jake "the Snake" Roberts, and Randy Savage.
I was in second grade at a Catholic school and this was like a big deal. We didn't get home until like 10:30 that night and he had to park his Cavalier at the bottom of the hill in a vacant lot because of the snow.
The next day I was in school and we had show and tell. I don't remember what I took but one kid in the class brought some signs he had picked up off the floor.
He said, "these are some signs I found at wrestlin' mania last night." They were covered with the kind of nasty, vulgar insults you'd expect from loud-mouthed western PA wrasslin' fans.
And the teacher, miss Coco, was about 23 and turned bright red. She told him to put the signs away because they had lots of bad words on them.
I don't know why that memory popped out of my brain but it did.