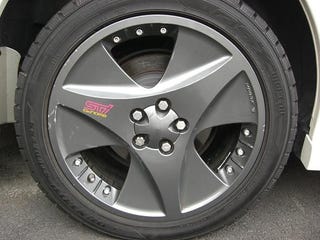 I recently stumbled upon these wheels online, and thought they were strange. I was able to figure out that they were STi Genome SCUBA wheels, but not much else was immediately known.
After some research (on Russian, Thai, and Japanese websites), I was able to find out more about them. These wheels were available through the "Genome" parts catalog in Japan (and possibly other countries). Genome offered upgrades including exhausts and gauge packages. We saw Genome parts in the US in the form of axleback exhausts.
These wheels were made by Hitachi Metals, as part of the SCUBA aluminum wheel line. They were specifically offered for the BL and BP Legacy (fourth generation), but they should fit other 5x100 Subarus with a +55 offset.