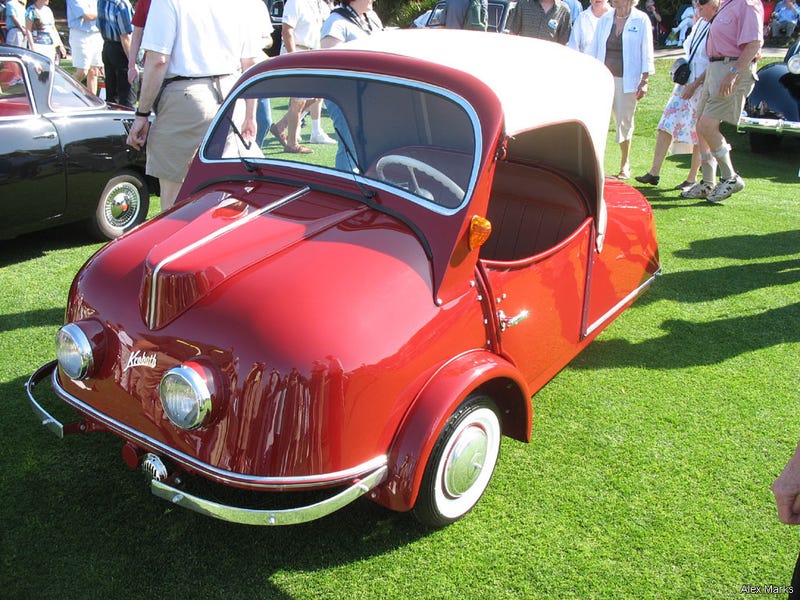 Gustav Kroboth was a longtime tinkerer who had built his own engine and tiny car in the 1920's. After WWII, he lived in the Bavarian countryside where he built all manner of things including poppyseed grinders and toys made from salvaged tank parts. He eventually got the money together to manufacture a scooter.
Looking like something out of Mad Max, it wasn't just the exterior that was unique. It featured rear leaf spring suspension and an engine pushed forward of the rider instead of the usual under the seat position. It came in 3 forms, a 98cc bargain version, 147cc high end model, and a sidecar equipped one with a 175cc motor. All engines were made by Fichel & Sachs.
With a modicum of success, Gustav went about designing a microcar he called the "All-weather Scooter."
It was a pretty neat little machine that was well received when presented at the Motorcycle Show in '54. A central tube chassis with transverse leaf springs in front and a longitudinal one in back gave a comfortable ride for such a tiny thing. The first one was powered by a mid-mounted 197cc Ilo engine with a Hurth 3 on the tree gearbox. These were later replaced with a 9 horsepower Sachs 175cc motor and 4 speed(!). Chain drive, ATF mechanical brakes and lively steering by ZF made it primitive, but fun. The windshield, if you hadn't noticed, was from a VW.
Financing came and went, and, after 55 cars, Kroboth was done. Gustav later became a driving instructor and his little car largely forgotten with around 5 known to survive today. The red car was found driving around Poland in the 1990's and later bought and restored by Bruce Weiner. I got to drive it briefly once and it was microcar heaven.