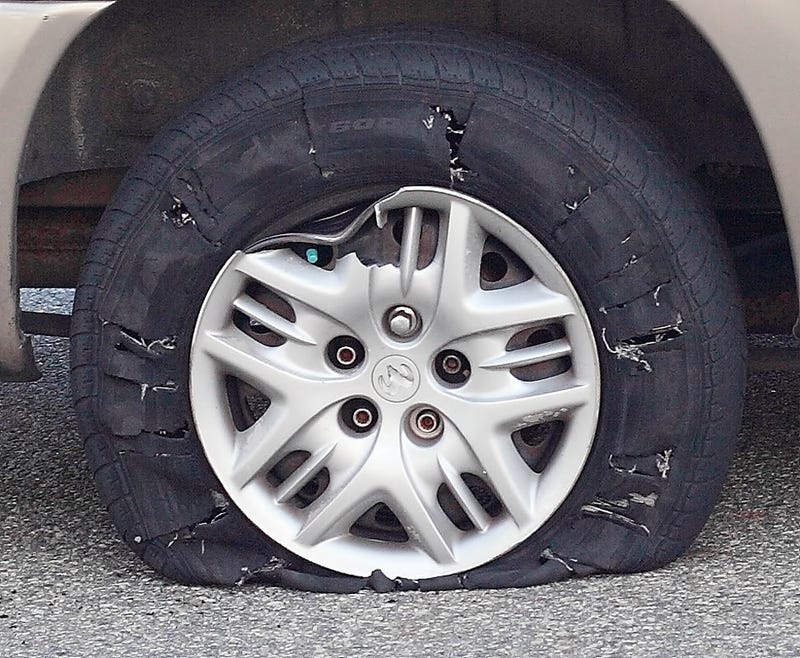 From a friend of mine this morning, who is actually a friend to many law officers in this particular state: "So, I'm not one to speak ill of the police, but the actions of a state trooper this morning have me quite fired up. My ex wife (while taking our kids to school about an hour ago) popped the bead on the front right tire of the accord due to low air while getting on at the exit 4 rt 9 south on ramp. At the end of said ramp where it merges onto highway, she pulled over, hazards on, in the breakdown lane and called both myself and the new boyfriend to assist.
While enroute to get my kids so they could get to school, I get a call from my daughter in which she informs me a trooper stopped, and FORCED her mother to drive a DISABLED VEHICLE, not further off the side of the road, not back down the on ramp a bit, but from where she was stranded the complete distance between the two exits, to the exit 3 commuter lot.........

Forget the fact she was IN THE BREAKDOWN LANE safely to the side, forget the fact an otherwise perfect tire is now destroyed (and quite possibly the inner rim as well), forget the fact there were two kids in the car......but there was help on the way (no more than 10 minutes out) to get the kids as well as put the spare on the car and get it moving.

I have never heard of and officer forcing someone to drive a disabled vehicle when the was not threat of further traffic complications, especially when said person did not feel safe driving the car at all........"
So anyhow, I know this area well having grown up there, and if she was on the right shoulder, she was safe to wait for a tow. Tire and rim are now toast. Would you send them the bill? (note: stock image, I didn't get one from the Accord)