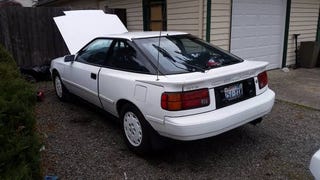 But, you guessed right: there's a few problems.
1. Owner all but admits it's a flip ("recently purchased" from a shop -_-)
2. Calls it perfect in title, then calls it near-perfect in ad. He put in speakers or some shit but didn't fix the other problems...
3. Dead battery
4. Shattered windshield (why???)
5. THREE THOUSAND DOLLARS... given everything else?
6. What the fuck is he doing in the first photo
7. Description makes me wonder how much he's actually driven it
8. Fuck me and my taste in cars.