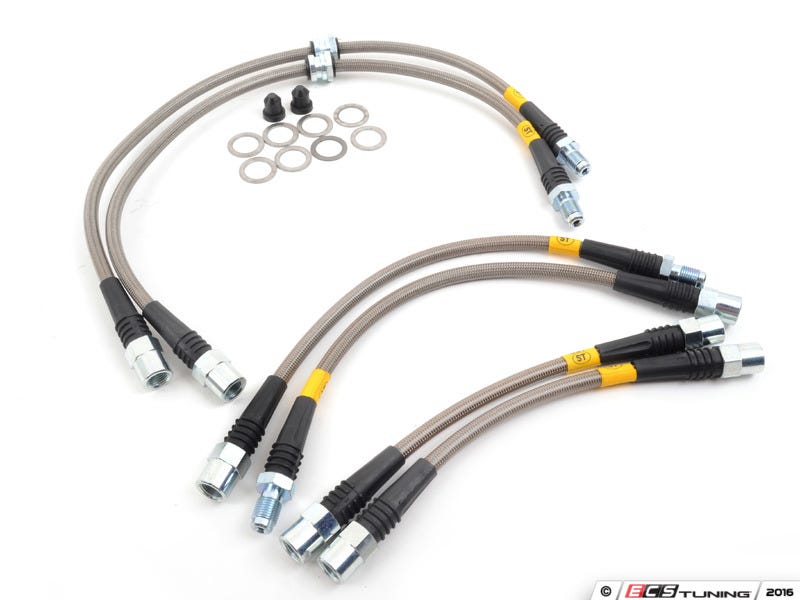 Hey, remember the other day when we played Oppositelock Price is Right with the brake parts I ordered for my 335xi? Well, I ordered them from PartsGeek, and I've now learned that PartsGeek is stupid, and I'm stupid for ordering from them.
Originally I was planning to order my Pagid High Carbon rotors, StopTech Sport pads, and generic brake pad wear sensors from RockAuto, and then the StopTech braided stainless brake hoses and Wilwood EXP 600 Plus brake fluid from Autoplicity. These are sites I've ordered from before and had no problems with.
In the course of trying to find the absolute lowest prices on stuff, I also checked PartsGeek, because a well-respected Bimmerpost forum member had once randomly linked me there and so I figured I'd check there as well. Turned out that unlike RockAuto, they also had the StopTech hoses, and while their price on the brake pad sensors was a little higher, by ordering the pads, rotors, sensors and hoses from PartsGeek and the fluid from Summit Racing, I saved like 10 bucks. Yay!
When I placed my order with PartsGeek, I experienced the first annoyance. Usually I "print" an order confirmation page to a PDF to save to my receipts folder, but the PartsGeek order confirmation page didn't list any of the specific parts of the order. It had an order number, and it took another like 15 minutes to receive any kind of confirmation email, which also didn't list the parts in the order. An hour later I got another email that said payment had been processed and that email did have a parts list. Ok.

The next day, I got an email that my order had shipped by Fedex, and it listed the same tracking number for every part in the order. Yesterday, I got the order, which included the rotors, pads, sensors, and no hoses. The invoice, which was taped to the box of one of the rotors, had no mention whatsoever of the hoses.
Then I googled the PartsGeek customer service number, and the results included their location on Google Maps along with a 1.8-star rating for horrible customer service. There are many, many other bad reviews out there as well. Ruh roh.
It was late last night when I was doing this, so the best option I found was to submit a customer service ticket through this form on their website, explaining that the hoses were missing from my order. The form said I would receive a confirmation email, and a response in 24-48 hours. This annoyed me greatly because I have an appointment this coming Monday August 21st at my mechanic and didn't want to reschedule because of some missing brake hoses. I never got a confirmation email that the form was submitted.
My thoughts then turned to having to order the hoses from some other site in case stupid PartsGeek's stupid customer service couldn't get them to me in time. I checked Amazon but the price was way higher and through a third-party seller that doesn't do Prime shipping. I could've gotten them through Autoplicity with quick shipping so that was my backup plan.
Thankfully, this morning I got a UPS My Choice email that a package was on its way to be delivered tomorrow. The package was sent by Centric Parts, a.k.a. the parent company of StopTech. I figured it was probably the hoses, and PartsGeek probably had them drop shipped from the manufacturer.
Of course, this was just my guess, because the damn shipping confirmation email from PartsGeek said every part in the order was in the same Fedex shipment, and didn't say anything about the hoses coming in a separate shipment direct from the manufacturer.

I called PartsGeek to confirm that this shipment is in fact the hoses. The phone is answered by a surly-voiced recording saying that this phone number is for sales only, and for all other inquiries go to the website and submit a customer service ticket. Which of course I've already done and didn't get any confirmation of. But I waited on hold anyway, and the person I spoke to confirmed that yes, the hoses were being drop shipped from the manufacturer. He had no explanation for why the parts weren't marked as being drop shipped on my order and was confused why they would drop ship at all when their database listed over 30 of them in stock. Whatever.
So, as of tomorrow, I'll have all my stuff, but tonight when I get home from work I'm double checking the labels on all the parts to make sure I got the right part numbers that fit my car. Because a lot of the reviews for PartsGeek talk about getting the wrong parts, missing parts, surly customer service people, and having to pay return shipping even on orders that PartsGeek screws up.
Lesson learned: don't mess with stupid PartsGeek to save 10 bucks on $500 worth of parts.
UPDATE: After I made this post, I got an email response to my customer support ticket:
AtlasM,

A customer support staff member has replied to your support request, #333754275 with the following response:

Hello,

We are currently contacting the warehouse please allow 24-48 hours for an update via this support ticket.
Very useful!
I emailed back that someone on the phone confirmed the parts were drop shipped. No idea if that reply will update the ticket, but whatever.