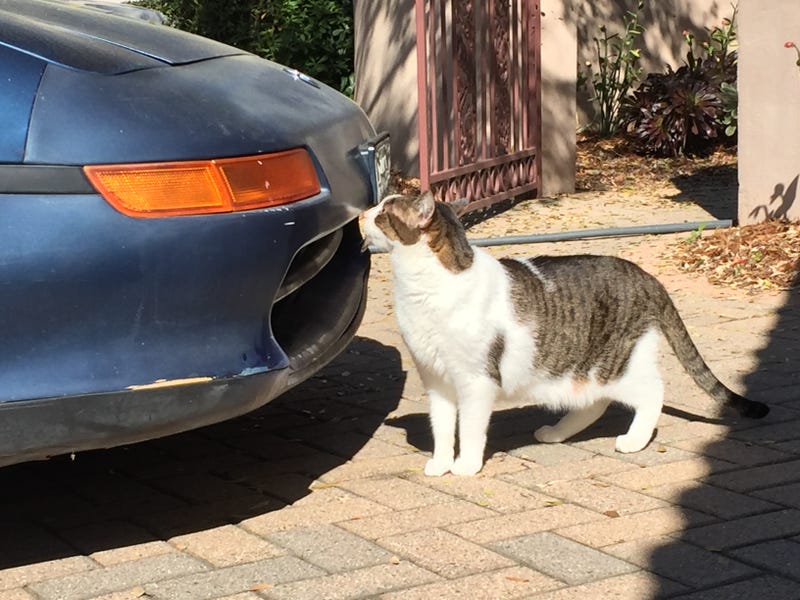 In today's episode of Questionable Decisions, I'll describe briefly the "bag of problems" (as one friend called it) that I have come to own. Already has my cat's approval so judge all you want :D
After months of watching my MR2 search on Craigslist, I finally found the courage (or the lack of foresight, more on that in a minute) to buy one. This is that one.
It's a 1991, blue on blue MR2 non-turbo, with no modifications and 140k miles. The paint is mostly original too, though my photography skills don't really bring out how bad it looks in person.
My goal is to autocross this car in its stock configuration for a while, and then begin to upgrade everything from the ground up, bumber to bumber until it's perfect.
Now, about my lack of foresight. Buying a Toyota, I was not immune to the Toyota stereotypes that are thrown around in other parts of the internet. I'll discuss two of these stereotypes and how this MR2 doesn't fit them.
"Toyota parts are cheap and easy to find."
Not. At. All. The windshield wiper switch wasn't working when I bought the car, and Toyota doesn't make it anymore. There is only one aftermarket company that makes replacements and they're not cheap. According to one Toyota technician, "8 parts out of 10 on that car are no longer in production." This actually is okay by me, because of the next stereotype that got blown out of the water:
"Toyotas are boring-to-drive appliances."
Nope. This car is an absolute blast to drive. Clearly Toyota had their act together in 1990 (the car was one of the first sold in America, in February of that year) because despite all the problems, I cannot stop driving this car! It's not even Fully Operational yet, but already very rewarding even at the slow speeds I've been driving it.
When I say it's not "Fully Operational," I mean there are a few things wrong with it. Here are those things:
-Small tear on the driver's seat (picture above doesn't show it)
-The clutch probably needs to be replaced; feel is vague.
-Throttle is sticky, it's difficult to modulate revs.
-Sometimes hangs at 2,000 rpm at parking lot speeds, requires a rev to 3,000 or higher for it to drop back to idle.
-The release switches for the four hoods/trunklids are not firmly connected to the interior. All the cables still work but they just sit on the floor.
-The windshield wipers do not work.
-The plastic trim for the center console really isn't attached at all, everything aft of the shift boot is simply resting on the console.
-Shift boot is coming off and needs to be replaced.
-The paint. It's just awful, fading in multiple places and will need full replacement as soon as possible.
I've probably missed a few items (more problems will show up inevitably) but that's most of the list. I'll be doing my best to fix it when time permits.
I'll take better pictures of the car sometime soon. I already am finding myself looking for excuses to run errands simply so I can drive it more...
Now what do you all think? And should I expect this "bag of problems" to have more in store?