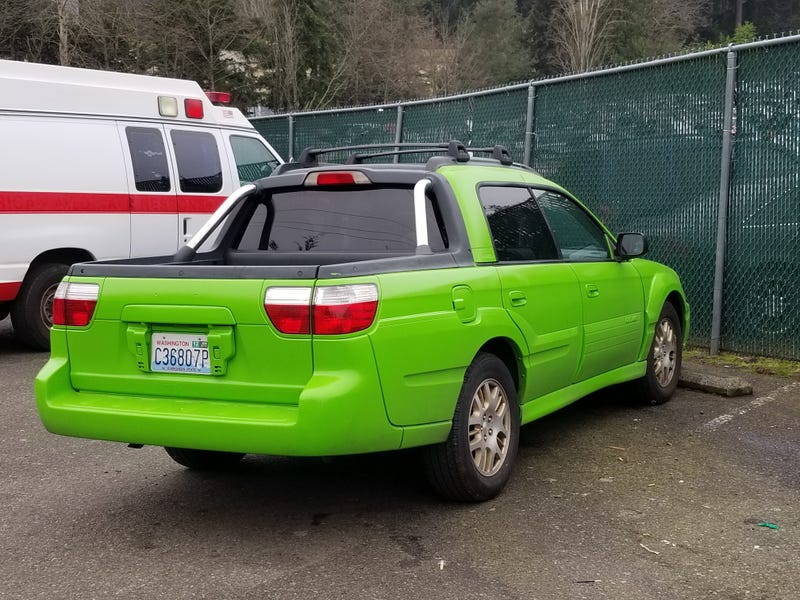 Got some good Volvo parts and saw some interesting cars, like the above turbo, manual Baja. What I wouldn't give to have that as my "truck".
I picked up a friend who also wanted to look for parts. He's got two 4runners, a manual Legacy Outback beater wagon, and is in search of an SC300/400. One of us.
Of course, I had to check out the parking situation at his apartment. I hear you guys like Broncos, no?
Clean. There was a RHD Toyota Soarer parked across from it.
At first I thought it was a beater, but on second thought.... Might just need a good cleaning up. How often do you see a yellow IS300?
Just an engine swap away from being the coolest Honda of it's decade...
And made it to the junkyard. Looked inside a 7 series BMW. Instantly recoiled in fear. I've never seen so many wires in my life. I'm pretty sure the wiring bundle in one fender contains more wiring than my entire Miata...
Below you'll see the booster seat that's built into the fold-out armrest in certain 850/V70 Volvos. Pretty neat. There's also the foldout armrest I have, which is just a super plush leather cushion, there's a less plush version with a slide-out cup holder tray, and there's yet another version with a pass through to the back. There may be more! My friend got in the habit of checking each rear seat to see what that particular Volvo was optioned with. I think he's one bad decision away from joining the Volvo life.
Dollers per foot, this Cadillac is the best deal out there. $1500 and this land yacht can be yours! Beautiful inside and out. Oh and the hood alone is over 5 feet long...
I picked up a new rheostat to keep in the car as a backup. When they fail, every interior light shuts off,so you can't see your speed, rpm, gas, level, etc. Mine was starting to die but seems to have fixed itself? It's a 2 second swap so if it starts flickering again I've got a backup that (hopefully) works.
I also grabbed this driving mode switch. It fills the blank next to my shifter, which has been bugging me. I don't think it will actually do anything, but I'd rather have aa useless switch than a blank. Worst case I've got a super tactile switch and button to fidget with! I still have one blank switch on the dash, but I'm unsure of what it's for... Maybe headlight washers?
I was looking for a hood latch, but they'd all been taken. I also had zero luck finding a wing for the wagon. I did however find a decent pair of fold-out jumpseats in my interior color. My friend and I took them out, along with all the accompanying peices, and at the last minute I decided I didn't want to buy them. Knowing me, they'd sit in my living room for 5 months before I'd even think about installing them. They're cool, but I need my space.