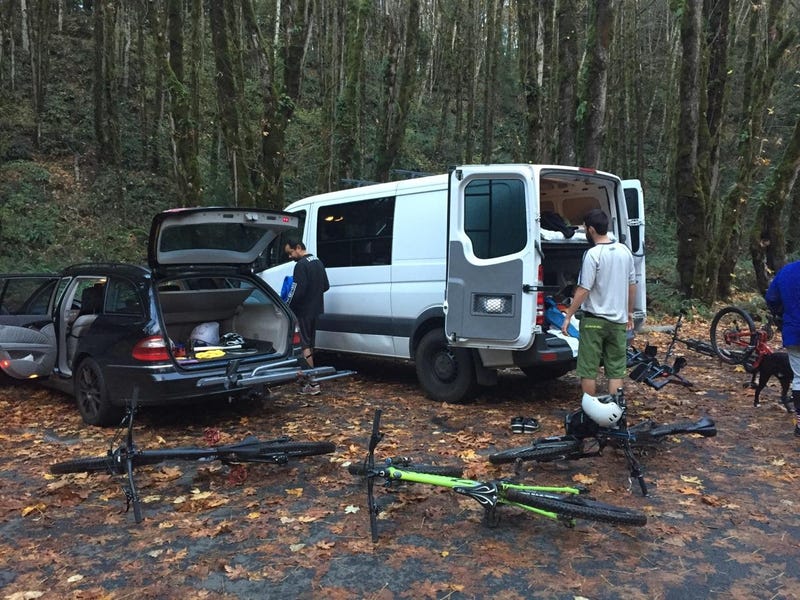 There were 7 of us total. It was awesome. One guy broke his fork. Two of us rented fancy new full suspension 29ers. 3 Mercedes (third being a new GLC) vehicles to get all of us and our gear there (and only two of us work for Mercedes!). I crashed, will post bloody pics later, with a safety image and warning of course. More pics and stuff below!
That is my rental bike. Salsa horse thief. It was awesome. So much lighter and faster and better in every way than my old hardtail trek. Only $60 for the weekend. If I wasn't spending today with the kid I would take it out again today. Very confidence inspiring, excellent climber and descender. Rather than being at the back of the pack I was now towards the front despite having less experience than the two guys who took turns leading, and there was usually a big gap between me and the next guy back.
The bike is leaning up against the third Mercedes. GLC300. I couldn't fit it in my car and the other two vehicles were full already, so I borrowed a loaner from work. The wife had the R500 and was out of town so I couldn't use that either. This was the first time I've driven a GLC for more than a couple miles at a time. Very nice ride, plenty of power, super smooth transmission (9 speed). Normally I couldn't just jumped in the sprinter with the others but the four guys in it went split boarding in the morning so we're meeting us from the opposite direction and had all of that gear in it as well.