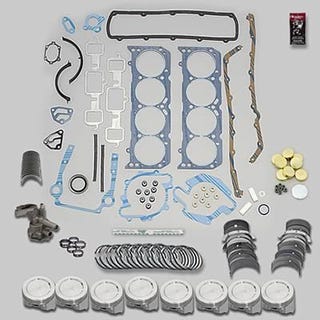 Due to my extreme impatience this time of year with waiting for the weather to break, I decided to get the parts list for the trans am together.
So, to kick this thing off, the wonderful service known as RockAuto:
FEL-PRO Full gasket set:$87.79

FEL-PRO intake manifold gasket: $16.70(why don't intake manifold gaskets come with full gasket sets?... whatever)

SEALED POWER oil pump: $68.79
SEALED POWER oil pump screen and pickup: $20.79

HAYDEN Standard Rotation Standard Duty Thermal Fan Clutch:$20.79

GATES Water pump for cars w/ac: $18.57

AIRTEX/WELLS temperature sender for cars w/gauge:$8.88
(for whatever reason the AC delco unit didn't specify. No matter, Apparently none of the factory nor aftermarket ones are calibrated and I have to get a variable resistor for it)
ACDELCO Professional Distributor Cap: $10.66

ACDELCO Professional Distributor Rotor: $2.96

AIRTEX/WELLS Spark plug wires (closeout!) $5.54

The total from RockAuto ends up at $293.43! with shipping (which sucks because it comes from four different warehouses). At least its Fedex.
From Summit Racing: Comp Cams magnum double roller timing chain, which I am getting because it comes pre-stretched, is 53.32
Still missing are freeze plugs (need to find out the diameter), bearings (various), rings, fluids, tools, ect. The rest of the parts I obviously need to wait to order until I can measure my engine.
The good news: looks like I can have this whole "overhaul" done for around 500$, pending any screwups. Given that it is running just fine now, minus the massive fluid leaks, I don't anticipate any problems.