We all have those weird automotive likes that don't really make sense. Maybe the car looks sporty but isn't. Maybe it tried to be practical and just never was. Or maybe, it's boring and you like it anyway.
Mine is the last generation Ford Thunderbird. Cheesy "retro" styling that was all the rage at the time, Lincoln LS parts bin sharing, and low sales. But I still like them.
My wife's family and I are staying at a beachfront home on the Gulf of Mexico in Gulf Shores, Alabama this week. The house next to us is apparently closed up for the season, and there's a 2002 - 2005 Thunderbird parked under it with a flat tire. Registration expired in August. It has a salty film all over it and the wipers are solid rust. It's been sitting facing the Gulf for quite a while, I think! Poor thing. I need to sneak over and get some photos of it soon.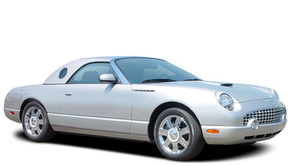 Edit: I took some photos of the abandoned 'Bird.