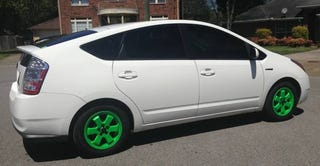 http://seattle.craigslist.org/tac/cto/430053…

You get an LS1 swapped Prius, and it's for sale.
Up for sale is my 2006 Prius. I bought it with the dream of making the hands down best sleeper known to man. Literally, driving down the road, NO ONE expects this car to be pushing 450 RWHP. My friends and I have had SO much heckling ricers, then blowing their doors off.

Green wheels because I wanted it to look like a ricer. LS1 out of a 4th gen Camaro, automatic, sorry. 2 3/4 inch dual glasspacks all the way back, high flow cats. Custom trans tunnel and IRS LSD Jaguar rear end and subframe. Has all stock prius interior. Stock electronic dash doesn't work, but it's got a tach, oil pressure gauge, and water temp gauge.

I love this car, but now I'm feeling like it's time for me to build a GC8 Impreza, or maybe swap an EJ motor in a Beetle. So sell for 11000 firm, trade for a CLEAN GC8 +cash on your end. A clean pre-67 Beetle + a little cash on your end. Or an STI motor +cash on your end. NOTHING ELSE.
I'll admit, it's weird, but it's a total sleeper. 450 (supposedly) HP at the rear wheels? In a Prius?

So what say thee, Opponauts? NP or Crack Pipe?