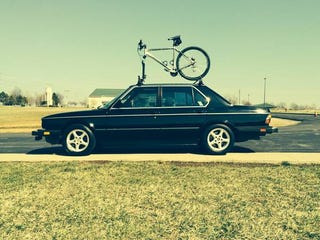 I've located another BMW in the seemingly endless hunt for a car for my younger brother. This time, it's a 1988 E28. Specifically a 535i.
I've been texting the owner a fair bit recently and the car sounds awesome as he describes it. Apparently it's all numbers matching, he has service records, the odometer works, and there's zero rust anywhere on the car. The car does come with the original bottle cap wheels.
Few problems with the paint because I think the clear coat is wearing off.
From the owner:
The check light for the coolant comes on...this is common for these and unknown why they don't extinguish...more info can be found on mye28.com...all coolant sensors ohm out within spec so I just ignore the light and got tired of chasing it down.
"It also has an Alpine 4 channel amp running the component system in the cabin...a kenwood excelon head unit and a kenwood 300w bridged amp running a single 10" kicker comp in a sealed box...the stereo sounds amazing!"

"I have a folder containing all service history, the original window sticker for 38k 5 factory metric bottle cap style wheels with decent michelins and the Yakima racks that will go with it also."
I'm driving to Springfield on Saturday to take a look, and if it's all good, I'll buy it then and there. What say you, Oppo?