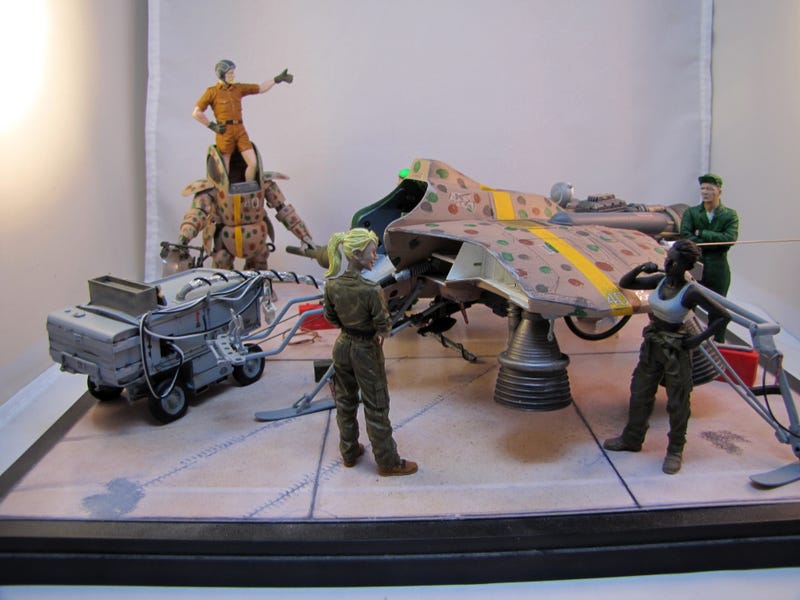 My most elaborate diorama to date, featuring a PK.41 Hornisse from Maschinen Kreiger (aka SF3D). The Hornisse (hornet), AKA the Vespa, is a merging of the Strahl army's P.K.A. ausf H1 powered armor with their PK.40 rocket plane.
The Hornisse is from Nitto, and includes all their usual wires, rods, rubber boots and springs.
The runway base is from a Revell P-61 kit, and all the figures a resin kits from eBay, as are the nitrogen and start cart, and the tool boxes.

I decided to paint the Hornisse in one of the camo schemes worn by the A-10s during the 'JAWS' and 'JAWS-II' exercises in 1977-78. The yellow identification stripe was a late addition, and my slightly messy line work is excused as such invasion stripes are often applied hastily.

You can't see it in the pictures, but I blanked off open areas of the intakes with a loose bulkhead (from god-knows-what recycled kit), and there is a Jumo-004 engine from a scrapped Me-262 under the center mesh, and guns from the Revell B5 Starfury kit under the left and right screens.

The panel lines and rivets are accentuated with Sakura pens, and the whole plane was given a dark gray wash. The engine bells are jet exhaust and engine gray, then weathered with Tamiya's set D (burnt metal blue, red, and oil stain). Fuel pipes are Tamiya silver and gold titanium.

The lower engine cover piece is covered with aluminum Bare-Metal foil, and weathered with burnt red and blue. The N2 cart is ghost gray weathered with rust, and I added rubber tubing.
The start cart is also painted ghost gray, weathered with rust and gray sludge where needed. I wrapped the hose in silver leaf to get a crinkled effect, and added a spare Molex connector for the AC/DC plug.
I gave the pilot sunburn on his face, arms, and legs, depicting someone on his first tour on Earth, and unused to Australia (where much of Ma.K. is supposed to take place).
The mechanics figures are heavily weathered, with oil and grease stains on their overalls. Also visible are the "Remove Before Flight" flags I added to the Vespa, as well as the yellow covers on the ends of the antenna on the back, which I created with UV resin (Lazer Bond USA).