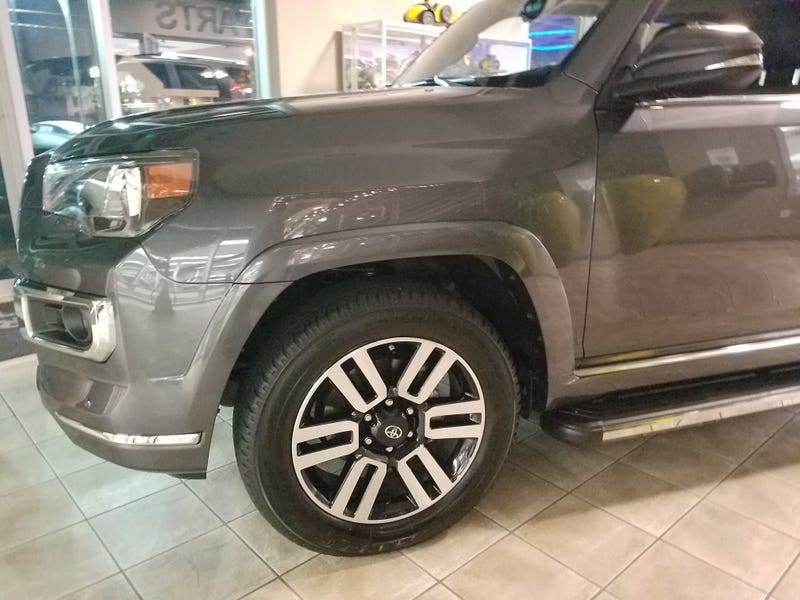 Hah, just kidding. I can't tell you much about them. But I did sit in one for 3 minutes on the dealer floor. Here are my thoughts:

The ceiling is... shockingly low. I'm 5'11" and my hair is close to hitting the headliner. And yes I put the power seat all the way down. There is less headroom than the Taco, maybe because the 4Runner has a moonroof? Anyway. It's a huge car, but not as big as you'd think on interior space.
Seats are firm and comfy. It's a nice car... The wheels are... [winces]... and scream "mall crawler."
Everything I care about are operated by buttons and knobs, a plus for me but I'm not sure someone who's cross-shopping bigly New SUVs would be impressed.

It's 2017 and the heated and cooled seats are operated by a single dial per seat. It's typical Toyota: modern technology operated by a 90s knob, button, or dial. I would love this in any car. But definitely doesn't feel up to date.
It does still have the TRUCK feel which I enjoy. But the outside looks like something you'd see in a Bellevue shopping center parking lot. Running boards are a nuisance. They don't stick out far enough to use and rob even more ground clearance. And this truck isn't even that high. No one over 5'2" would need to use them.
Conclusion: I can't afford one.
Thank you.