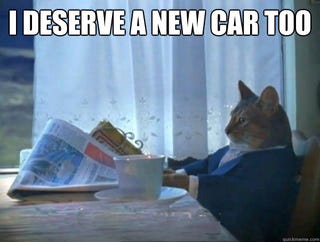 Oppo, I come to you for insight and your wealth of knowledge when it comes to fine automobiles. Here is where I am at...
---
I am looking to spend about $25k. I have found two vehicles that I am very interested in.
2013 328i M-Sport 6 speed RWD, Xenons, no other options. 36k miles. Balance of Factory warranty (9 months left)
2010 528i M-Sport RWD, fully loaded, every option. 20k miles. Automatic
The practical side of me says, the F30 with the warranty is the play. But after driving the steptronic 528, WOW. I am amazed. Its big, sturdy, quiet, and drove really nice. I was surprised i liked it so much. Plus the thing just looks bossy as hell, I know its not a 550 or M5 but it just feels like i need to pump Fat Joe Lean back on loop while driving it. The 528 has pretty much every option except the HUD and Adaptive cruise.
I can get the cars for very similar money. What to do Oppo?
Background, driving a 1series, but with a two year old and one on the way, its time for something bigger.