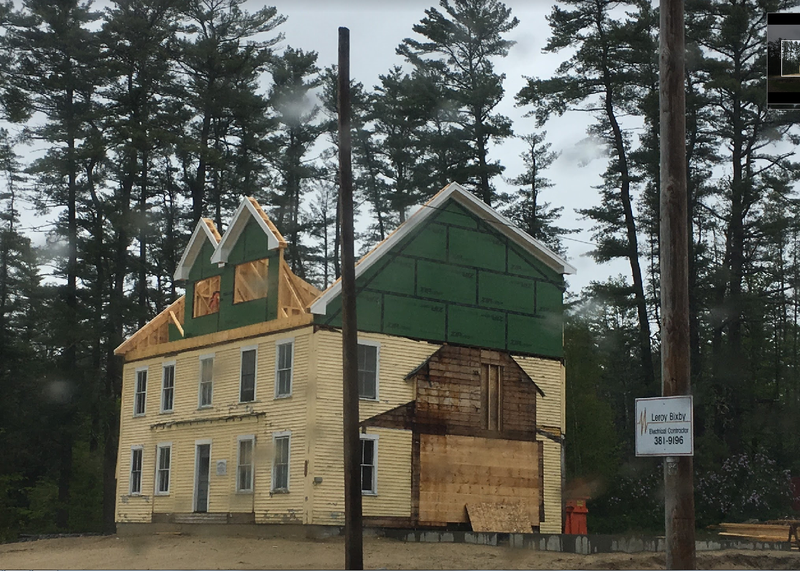 On my morning drive, I pass an old farm property that's being overhauled. It's endless entertainment seeing what they've done every day. I have no idea what the new owners intend to do with the property, but they already put (my best guess) $300k into ONE of the barns, and not even the really big one - that one hasn't been touched yet - so I can only imagine what their budget might be for the house. So far, they ripped off the front porch and side "garage" structure, lifted the whole thing and put a proper foundation under it, totally gutted the interior down to the studs, then the roof came off.

After building a proper third floor on top of the now-roofless house, one day the gable ends popped up as you see in the pictures, along with two dormer ends. When that all appeared, it confirmed that they are adding living space on that floor, with the raised roofline in the back, and dormers up front. However, after a few days the gable ends came back DOWN, although it coincided with a very windy weekend in the forecast, so I wondered if they were just worried about the wind ripping those ends off without the rest of the roof in place, or even just a main roof joist.

But no. A week passed before they went back up, and sure enough, you can see why they came down in the first place. I'm sure the eagle-eyed (or even, non-blind probably) among you can spot what they did. They also appear to be uncertain about the placement of the dormers, because they're still just kind of sitting there, not lined up with anything. If I were the homeowner, I'd be concerned. OR, the contractor is dealing with a very indecisive client. Anyway I can't wait to see this all come together. Today they were joining those ends with a gigantic LVL, so I expect a roof in the near future.

Sorry for the single crappy potato pic...

UPDATE: We have a winner already, WilliamsSW noticed the roofline changed... for some reason. I will attempt to find an answer, some day.

Update 2.0: before pics