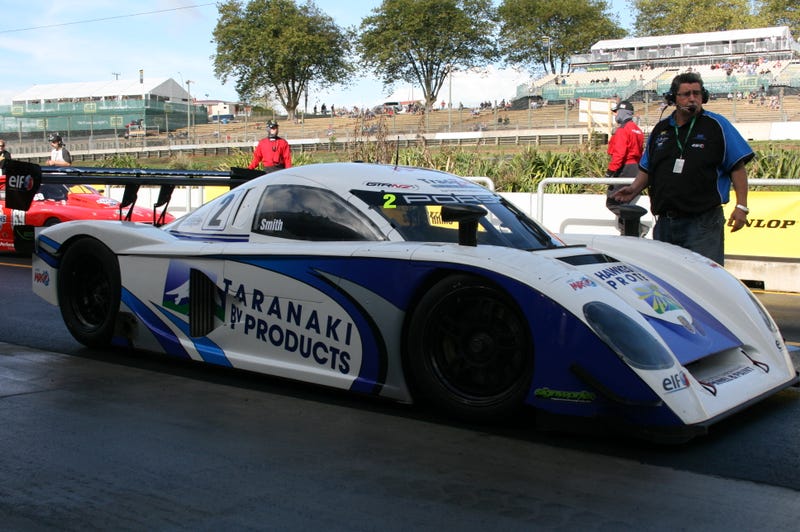 You get a madman entering it in our national Unrestricted class (we call it GT1) and making it stupidly fast.
However, very much unlike a stock DP car, this one is a lot faster. a LOT. It started life as the 3.6TT Porsche flat six variant of the Crawford DP03 chassis and was imported to NZ by its owner Glenn Smith. Pushing around 500-600hp in Daytona spec, it was actually around 200+hp down on power compared to the other front runners in its class, the NZGT-GT1.
The power to sit at the front of the grid in this class is around the 900hp mark, and top level cars have included:
A V8SC chassis that was made wider, does 850-900hp and has a Gallardo GT wing,
a Nissan GTR built and raced by renowned Nissan expert Harry Dodson which I was told made about 900hp stock, and up to about 1200hp on overboost,
a TVR Tuscan with 800hp and titanium blocks on the splitter for more sparks over the bumps,

An 800hp rotary spaceframe Corvette
A Jaguar XJR Trans-AM car..
You get the point. Smith wanted to win.
His Crawford Porsche now makes over 1000hp in race trim. If he needs to he can bump that up to 1200hp in-car for about 3 laps as well. A far cry from the Daytona Prototype original spec...
Side note; The GT1 class (and the other classes under the NZGT banner, GT2, 3 and 4) are essentially totally unrestricted, grouped solely on lap time. I believe they are allowed one set of tyres a day, and the car must be production based, i.e the V8SC based vehicle is 'based' off of a Holden Commodore, and the Crawford was technically in 'production' for a time. Also no open tops ergo your radicals etc. These are the fastest cars in the country.