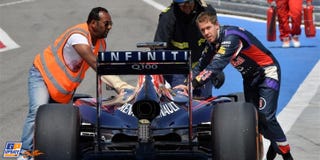 What if, after all this moaning and "woe is me"-ing, the F1 season starts like usual, with Red Bull, Ferrari, Mercedes, and McLaren near the top, and Caterham and Marussia at the bottom?
What if, after the debacle that was pre-season testing, there is no over heating, the cars sound fantastic, the electronics have no issues, and the cars are just as fast as years past?
What if, after glorious pictures of a pissed-off and uncomfortable-looking Sebastian Vettel, Seb wins in Melbourne, and the three subsequent races?
What if, after 4 seasons of Red Bull/Vettel dominance and borderline boring races, Bernie Ecclestone concocted this whole ruse of regulation changes, technical issues with said regulation changes, dong-shaped noses, conspiring with everyone from engine manufacturers, to Magnetti, to Pirelli, just to get people hyped for another season that will just turn out like the past four?