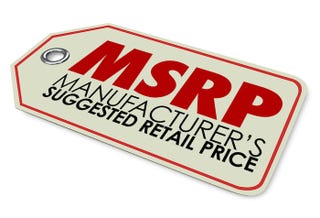 Let us pretend that the auto industry and dealer network decided to end haggling and incentives so that everyone pays the same amount for a new car across the entire country. To facilitate this change over automakers collectively release a rebate equal to 15% of MSRP on all new vehicle purchases.
This means purchasing a vehicle with an MSRP of $23,000 brings back a fat check for $3,450. A vehicle with an MSRP around $67,000 would yield you $10,050 back. The catch is that you don't get that rebate until the 18th month of ownership.
What would happen? Who gets to take the most advantage of this and who gets hurt the most? How would automakers respond when it came to base pricing and the costs of trims and additional options? These are questions!
But the biggest one I want to ask is, "Would you buy anything new due to this rebate and what would you buy?"