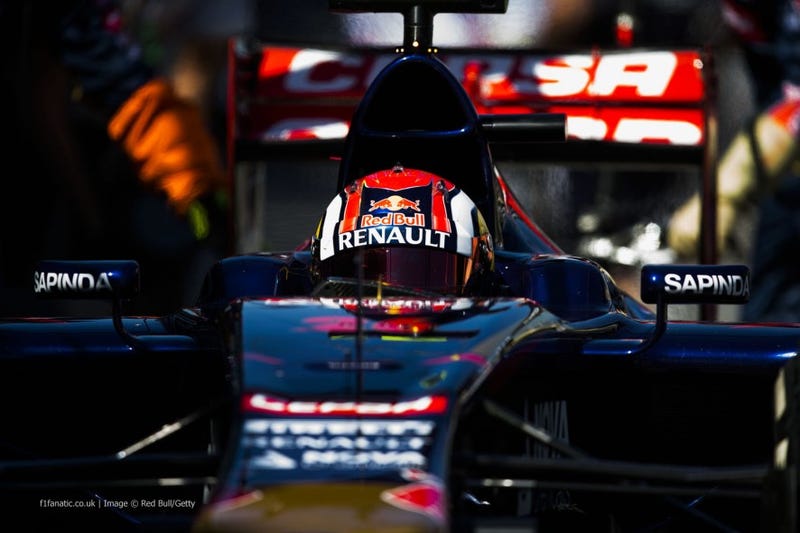 So I found this article earlier today and wanted to share it with all of you. It's a great read. Check it out.
by Jacob Polychronis
I can tell you now that yes, there is indeed something wrong with F1. But no, it's not what you think.
To say that Formula One as a sport is being attacked after the first race of the 2014 season would be a gross under-statement. In fact, F1 is currently the metaphorical maimed antelope calf which is being devoured ruthlessly by a robust lion.
Questions over the sports credibility, marketability and subsequently its future, are arising in spades. Many people are asking; "what is wrong with Formula One?"
This year's technical changes are widely being considered as the catalyst for all things now supposedly wrong with F1. Smaller engines, reduced rpm and a greater emphasis on energy recovery has decibel meters relatively untroubled.
Intrigued by the sport's birthing to a new era, I decided to leave the nurtured surrounds of the media centre and head down to general admission during Friday practice at Albert Park to see what the fuss was about. Indeed the cars are quieter. Indeed, they are somewhat reminiscent to vacuum cleaners. Although, does this necessarily mean the 'quiet death' of F1 as one irate journalist has put it? No.
What I witnessed at Albert Park on the weekend was spectacular. I witnessed (as did most other well-informed F1 enthusiasts), the ability of the best drivers being heavily scrutinised by the newly-found, immense torque of their vehicles. Even four-time world champion, Sebastian Vettel appeared at his shabbiest through most of the weekend's running.
2009 world champion Jenson Button, explained that "you have to be so careful the whole time and you're never sure how much power to use." Another world champion, Lewis Hamilton, explained that new regulations had him feeling "like a beginner" when he eventually drove his F1 W05 during FP2.
Nonetheless, instead of appreciating the exhibition of the world's best drivers utilising their upmost potential, the world's media focus has been truly pessimistic.
One particular article, which is sadly gaining traction throughout the F1 community, is titled 'Formula one could be dying a quiet death' by motorsport writer Mark Fogarty. The article, initially published in prominent Australian newspaper, The Age, is now gaining global attention.
According to Fogarty, Sunday "was lacklustre by most measures, it began what could be a terminal illness,"
"The sound of the cars was dreadful, the racing was somnolent and the spectacle completely underwhelming. F1 authorities, along with the teams, have to urgently address the failings of the radical new regulations that have neutered much of the cars' traditional visceral appeal."
I, as much as anyone, would prefer to leave the race track with my ears ringing and the smell of burnt rubber in the air. I truly do believe F1 will never sound as good as the V10 era.
Nonetheless, to label the sports massively revolutionary and technologically-leading changes as a 'failing' is plain embarrassing.
Equally embarrassing are comments by Australian Grand Prix Corporation (AGPC) CEO, Andrew Westacott, who has also lashed out at the weekend's F1 spectacle.
"We pay for a product, we've got contracts in place, we are looking at those very, very seriously because we reckon there has probably been some breaches."
Express it as intellectually as you like, the AGPC's complaints essentially say "we don't like anymore because fast car doesn't make big noise."
The fact is that more than ever before, F1 is at its pioneering finest and remains the pinnacle of motorsport.
Perhaps these cynics are best suited to the likes of NASCAR or V8 Supercars, I'm sure they can still satisfy their desire for noise.
The problem with F1
To state that the first race of the season was 'lacklustre' is incorrect. The Australian crowd were treated to an array of 'offs,' car crashes, a safety car period and an incredibly popular result. Although Daniel Ricciardo's podium finish was eventually proven to be illegal, the excitement and joy was still thriving amongst the Australian crowd throughout the weekend.
In fact, the attention Ricciardo brought the sport during a weekend where the Australian Football League started its own season in Melbourne was staggering. He outshone it; an incredible feat if you understood how big AFL is in Melbourne. I asked Ricciardo myself what such unrivalled attention feels like after the race on Sunday.
"Obviously there's been a lot of support for me this week but the support everyone has shown for Formula One, it's made headlines every day in the papers, I think" said Ricciardo.
"As I said, the crowd was amazing, not only for me but for every other driver this week, they've showed incredible enthusiasm for the event and if there's any doubts that the Oz Grand Prix won't last, I think they definitely put a stamp on that this year and I'm sure it will keep kicking for a while now, so really pleased to be a part of that."
After such comments, one wonders what on earth the likes of Fogarty are talking about.
What has actually become the problem, is that those with privileged voices are utilising them to express their personal disappointment that today's era of F1 doesn't live up to their own personal golden era.
My own personal golden era is that of the middle to late 90's. I fondly remember the time when Damon Hill and Mika Hakkinen were household names, tracks such as Imola were still on the calendar and Hockenheimring still meant a track with massive straights.
Will I ever view an era of Formula One in the same way I viewed then? No. But to criticise the sport's changes which are blatantly pioneering and revolutionary just because it isn't the way it used to be is incredibly small-minded.
Worst of all, is that these negative attitudes in the media are inhibiting the present from being the next generation's golden era. Believe me when I say that there were hundreds of five year olds in the crowd on Sunday who attended their first Grand Prix and are now infatuated with it – we must not ruin that.
So I conclude this article by asking the question: What is really wrong with Formula One today?
No, the answer is not 'greener' engines and reduced noise which is supposedly reducing the marketability of the sport.
The answer is in fact small-minded and nostalgia-blinded people who inappropriately utilise their authoritative voices in today's media.
If you truly are a Formula One fan, you would be best not to listen to such voices.
Follow Jacob here on Twitter
Follow me here on Twitter
And check out the car that stumped Travis yesterday.
Photo credit to F1fanatic.com