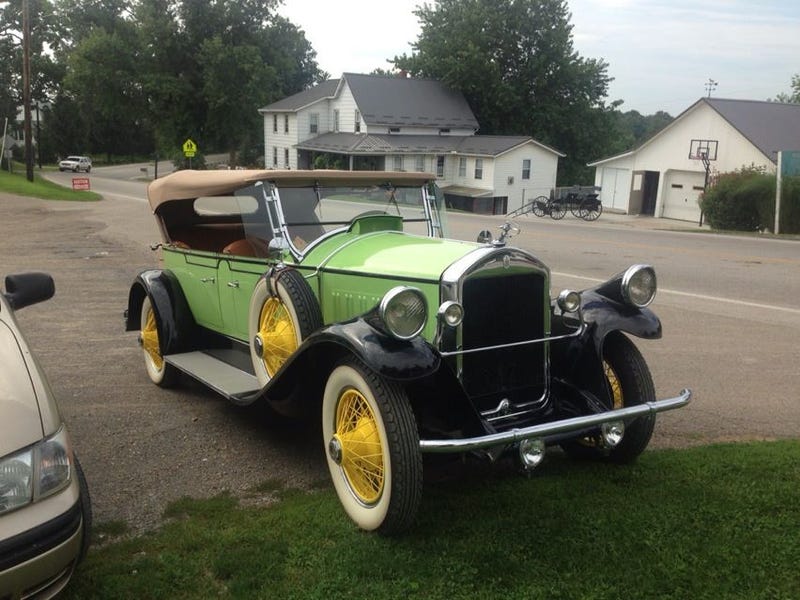 I have three favorites! The first one was I believe a 1929 Pierce-Arrow model B. But I can't be sure. I saw it last year when I went to an Amish auction near Berlin, Ohio. Needless to say luxury used to be far classier and more beautiful during and right before the great depression. A phaeton with coach doors. Wish I could have talked to the owner this car is perfect.
Another great find in the wild was this White tour bus that was used in Yellowstone national park. 400 were originally in service in 1925. I assume they were used in national parks across the country. Roughly 200 were destroyed in a fire. I am guessing not many of these classic touring cars are still left in existence today. Believe it or not I saw this car on the same day at the Pierce-Arrow. Needless to say that was a good day. For those interested here is a summary of the bus on desertsclassics:
http://www.desertclassics.com/Sold3/White25b…
Now this final car needs no introduction. We take vacations on Sanibel Island in Florida where my grandparents have a house 5 minutes from the causeway. There is also an outlet mall and when this F40 pulled up I about peed my pants. An F40... In the wild! I was so speechless I could only tell the owner he had a beautiful car. This is my personal favorite find in the wild.
TLDR: What is your best car you've ever found in the wild?