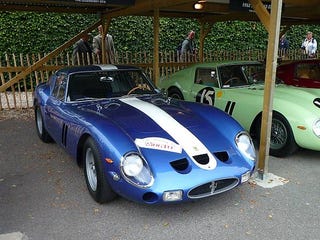 Both the motoring and mainstream press have been running a story that a Ferrari 250GTO recently smashed the record for the highest price ever paid for a car. The GTO in question, chassis number 5111GT, is alleged to have changed hands for a whopping $52M. However, there has been no corroboration on the sale or the final price from either the vendor or the buyer, although enough sources have confirmed that the car has changed hands.
The last time a 250GTO sold for record money, in that instance chassis number 3505GT, I discussed why GTOs are priced so highly. There's no point in rehashing that article other than to say that with an overall win in the 1963 Tour de France Automobile and second place in the same event the following year, 5111GT does have a better period racing history than 3505GT, which may justify a higher selling price. However, most of the gain in the last twelve months is surely down to the ever-increasing prices of classic cars.
So, is this the limit, or could classic car prices go even higher than $52M? Put another way, which is the potentially the most valuable car in the world? GTOs have led the way over the past few years but with 36 made there are certainly rarer and potentially more desirable cars around.
Perhaps the true automotive Mona Lisa is the Mercedes 300SLR race number 722 (sister 300SLR shown below) that Stirling Moss and Denis Jenkinson drove to victory in the 1955 running of the Mille Miglia. Any SLR would be the pinnacle of a private collection, but 722 stands above the others just as Moss's drive stands as maybe the greatest drive in motorsport history. However, the trouble with estimating a value for 722 is that it is owned by Mercedes-Benz themselves and they are unlikely to ever offer the car for sale, so putting a value on it is nearly impossible. The same applies to the two 300SLR 'Uhlenhaut' coupes, which are also often talked about as the most valuable cars in the world.