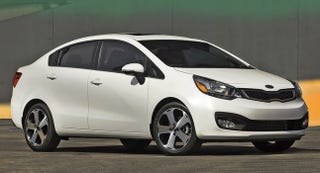 Unlike most of my fellow Americans, I've always preferred hatchbacks to sedans. In most (but not all) cases, hatchbacks are much more versatile than sedans and can carry more crap. I also tend to think they look better than sedans, for example the Suzuki SX4. The hatch SX4 looks pretty good, but the sedan has some wonky dimensions.
However, in the current generation Kia Rio I like the sedan better. Every time I see them in the flesh, I'm struck by how much more I like the sedan's looks than the hatch.
I'm not sure what it is about the Rio hatch that bothers me, but I know that when I view the hatch from the side something just seems off.
What do the rest of you think? Are there any other examples of a model where you think the sedan looks better than the hatch?