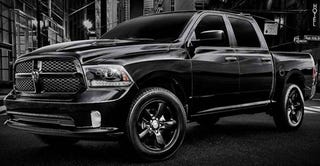 My parents have a great Chris Craft that we only use a couple times a year. They recently sold their truck and now have nothing to tow the boat with. I asked them if I could use the boat if I get a truck and they will let me use the boat when I wish but they will get to use my truck for their boating trips.
Sadly, I will have to sell the awesome Minivan and replace it with a big four door pickup.
So to pull 4,000 pounds of boat, I figure that a 2012-14 Ram 1500 with the 390 Hemi will do just fine running up and down the canyons at 80 MPH. We need a crew cab with a front bench for our three punky children. With the front bench my wife can sit by me and the kids won't be packed three abreast in the back.
The Rams are fun trucks to drive with 390 HP and 405' pounds of torque and coil springs. They seem like a good value and can pull off 20 MPG on the hwy without having to pay $.50 more for diesel. The Chebbies and Fords are too damn expensive and don't have enough power at that price.
I am looking to spend about $25K. I can get the dealers to discount a new 2014 truck from 40K down to 33K but I really don't want the depreciation and additional cost. The brand new 8 speed tranny is slick while getting 22 MPG highway but it's not worth an additional $6,000. The new diesel is cool but a bit slow and expensive
I found a 2012 Ram 1500 crew 4x4 5.7l with 26K miles for $25K.
I really want a Raptor but they hold their value too damn well, 2010s are still selling at 40K!
Any other suggestions for a family/boat hauler?