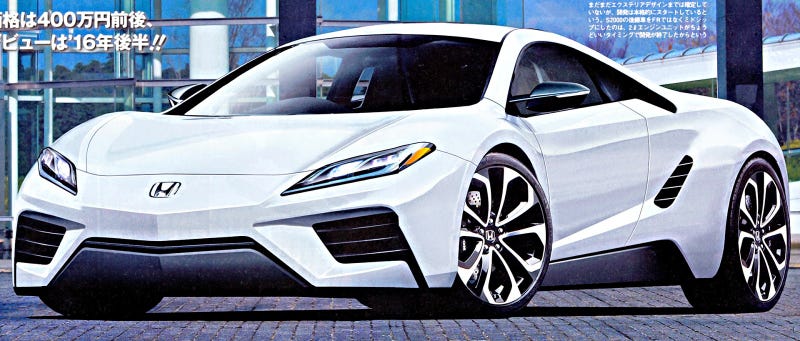 Last week, I gave Ford a little flack and advice on the huge gap between the 2017 GT and the Mustang along with all the FWD stuff. In a way reminds us of the huge wealth gap from our society/world, but that's another issue. Now let's see how things are at Honda.
Honda launched their Acura NSX last week, and we know is going to be cheaper than the GT, but bellow the NSX, there isn't much to chew on. However, there is hope.
This is a rendering of the S1000, the 1 liter engine, MR roadster, and more powerful version of the JDM S660, rumored to be sold worldwide. I'd say a price of $20,000 for the lightweight, former kei roadster, sounds decent.
Going up, we have the S2000 MR coupe, with its 2 liter turbo engine, borrowed from the European Civic Type R and hybrid components, with a total power output of 350-400hp.
And since you get a baby NSX, I'd say the right price for that car goes from $45,000 to $75,000. 75 grand is half the price of the NSX, with the S2000 delivering more than a half of NSX's performance and styling.
The 2 mid engined sports cars seem like the natural additions under the NSX, however there are some "side" rumors.
First is the S3000. The 3000 in the name would be purely conventional, as the car would have the 2 liter turbo engine, I already mentioned, with some level of hybridization, and would presumably arrive in coupe and roadster body styles.
Another side rumor, is that about the second generation CR-Z.

The CR-Z would have a 1.5 turbo engine, and a more powerful hybrid system with a combined output of 220hp. The car shouldn't cost more than $30,000.
Now, I don't know how much of this will actually happen, it's just what I managed to put together, reading various reports from the last couple of years.