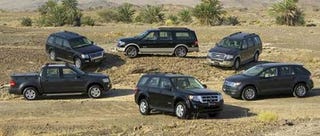 Every company needs a way to relate their products to one another. Most of the time an arbitrary combination of letters and numerals are tossed together, forcing customers to become brand experts in order to communicate with the saleperson. As enthusiasts, we tend to gravitate towards vehicles using nouns that are related.

Everyone has some type of organizer, but if you had your own company, what would the naming scheme utilize? Give examples!
Ford gravitates towards "F" nouns for their four door models, "E" nouns that depict adventure for their crossovers, and animals for any model focused on being sporty.

Fiesta, Focus, Fusion, Five Hundred (replaced with Taurus because brand equity), Fairlane, etc.

Escape, Edge (of a cliff), Everest, Explorer, Expedition, Excursion, etc.
Mustang, Raptor (bird not dinosaur), Thunderbird, Falcon,
and so on.
Current Bugatti uses a driver whose name ends in "ron."
Current Koenigsegg uses awesome Swedish words that end in "era." Which is cool because all Eggs involve an "end of Era."
Of course, there are exceptions and changes that will always occur. My opinions are a grain of salt in the Ocean.
As a Composer, I love music terms! I have no shame in admitting that part of the reason I started liking Kia was due to their use of musical terms. Examples would be Forte, Rondo, Cadenza and Quoris (Chorus).
Have fun and good night, Oppo!