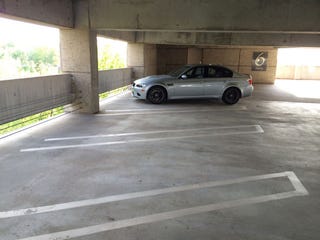 I had a long, tiring day at work today. As I left my desk, I was fried and felt exhausted, even though I'd been sitting, staring at a computer screen for most of it. But as I walked outside, into my parking garage and then saw my car in the distance, the tiredness was quickly replaced with excitement for my drive home.
It was a beautiful spring evening, so I opened the windows and sunroof to better hear the engine and exhaust as I drove down the ramps to exit the garage. By the time I was out onto the road, even the traffic didn't bother me as I took my time with my shifts and soaked up the sounds and "feels" of my car. I caught up with and followed a new ZL1 for a short time, enjoying the rumble of its LSA.
I managed to get the holeshot at the next light before a twisty bit of road over a big hill. Fun to wind it out a bit in 1st and 2nd, but a slow-moving, older BMW ruined any hope for a quick run through the curves. But I wasn't even mad. Ran into more traffic before getting on the highway, but just enjoyed some good music while I waited my turn for the light and the on-ramp.
Once in the clear and in the passing lane, I was able to open it up a bit, and hear the sounds of the car reflecting off the concrete dividers. Before I knew it, I was off the freeway and running through the trees, past the older homes and horse pastures until I was in my neighborhood, and my garage.
In less than 30 minutes, my mentality about the day had completely changed, and I was in the right frame of mind to go in and hug my kids, enjoy dinner with them and my wife, and help get them washed up and ready for bed.
Fellow Jalops, it doesn't matter if your budget is $1000 or $100,000; if you're the one making the choice of what you drive, take the time to find a car that will give you joy each and every time you drive it or even lay your eyes on it. If it's used and needs a little more TLC than the "practical" choice, so be it. If you prefer to buy new and don't have a stack of cash, Mazda's whole lineup seems to be pretty grin-inducing right now, and I don't need to mention the merits of the FR-S/BRZ or Fiesta/Focus ST here on OPPO.
I drove an '05 Mazda 3s hatch for 7 years and 90k miles before buying my current car, and I loved that car just as much as I love my '08 M3 (hard to believe, I'm sure, but I'm dead serious). I took it on driving trips to northwest Arkansas with much more powerful cars, and even out for a day at our local track, Hallett. I may have been in the slowest car out there, but I can assure you that I was having just as much fun as all the rest!
And I loved my hand-me-down '88 Acura Legend before that... If I could buy a like-new Legend just like the one I had, I'd do it in a heartbeat.
So, regardless of your circumstances, find a car to love, Opponauts. Most of us will spend an hour every day in our cars; make that hour of your day the best that you possibly can.
Share the car you love, loved, or will be loving soon in the comments.
[This old post of mine originally had 335 comments below, but I accidentally deleted it when trying to remove a share, so I've copied the contents from Google cache and reposted it for posterity. Thanks, Kinja.]