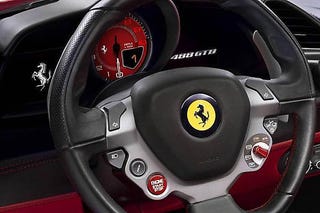 My vote? The everything-on-the-steering-wheel controls of the recent Ferraris.
Granted, I haven't used any of them since my only seat time was in a 458 on a track, but I looked at it and instantly thought "Yes. This is how to car."
Everything is right at hand, and distinctive. No more flashing your brights when you meant to hit your turn signals. No more spraying your windshield instead of hitting the upshift paddle. (I never had this problem, but a SURPRISING number of people do.)
It also has the benefit of cleaning up the steering column immensely.
So, Oppo, what are some features that are only found on particular cars that you think should be more widespread?