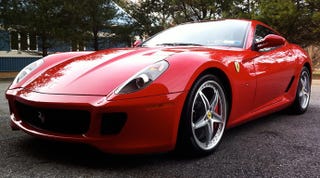 Say what you want about the lanky blue eyed Hollywood sell-out, but respect his taste in cars. Here's a man who, short of his flappy-paddle Enzo, would insist on only buying open gated Ferraris. His collection includes (read: "included" as he's broke now) a priceless Lamborghini Miura SVJ, a six-speed 612 Scaglietti, a Carrera GT and literally hundreds of other cars. The neat thing about celebrities with spending problems (read: in a single year he once bought several Medieval castles and an island) is that they eventually go broke, and their low mileage fully optioned supercars trickle down to the common rich folk.
Yesterday my city of Vancouver, BC officially welcomed Nicolas Cage's ultra rare (1 of 33 in North America) six-speed manual 599 GTB at the father's day Italian car show event. What makes it even more rare is that it was fitted at the dealer with the HGTE "handling" pack, making it perhaps one of one (someone correct me?).
It has low miles, carbon everything, including the carbon steering wheel with shift lights, ceramics, and so forth. After Cage tacked on the HGTE package for $40,000 and sold it off to the 2nd owner, it was put for sale once again in Nevada, which then caught the attention of one of the genuinely nicest Ferrari owners I've met. His previous car was an F430 Spider, and he told me yesterday that he's over the moon happy with his gentlemen V12 Fezza with a proper gearbox. And the best part of all? He's a driver, and wont ever think twice about joining in on local events, drives, or shows.
Here's a popular video from another 599 with a six-speed making some of that sweet sweet noise.
Anyone on OPPO have a list of all the cars Nic Cage used to own?