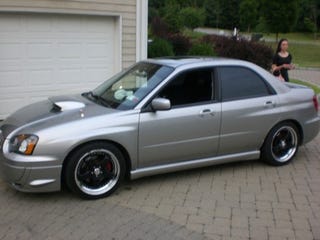 Let me start by laying out the particulars. I currently have three cars. One keeper (a 4Runner) and two that I am looking to replace with one of equal or slightly greater value. Just what type of vehicle takes their place is currently a matter of lively discussion between myself and my better half. This is where the Oppo army steps in. Do me a solid and read through the details then let me know what course of action would be in our best interest.
The first car is a Chrysler Pacifica AWD. It has been a generally reliable machine of surprising agility and overall capability in a family truckster package. I like it to the Millennium Falcon, it may not look like much, but it's got it where it counts. At this point it has nearly 200,000 miles on it and I feel it's only a matter of time before something major gives out and I have to replace it on short notice. This is my primary commuting vehicle as the AWD comes in handy during the winter months crossing a mountain pass on my route.
The second is a Honda Accord automatic with a 4-banger. It's an insipid metal lozenge that gets you where you need to go with neither excessive excitement or overwhelming lethargy. It's got 160,000 miles and a transmission that seems a bit jumpy. Word on the intertubes is that it has a penchant for failed transmissions and may not be the pillar of reliability that I believed it to be.
My tentative plan is to sell both of these vehicles for $7000-8000 (total) and get myself a WRX with around 100,000 miles as a replacement, which I figure will cost $10,000. This will provide me with a car that I desperately desire (well an STI would be ideal but beggars can't be choosers) and also can hold my kids and get me to work. It seems to exhibit standard subie longevity and parts are readily available if necessary (I do pretty much all of the mechanical work on my vehicles now).
The wife wants a 4 door Tacoma 4x4. A fine choice but completely opposite the direction I want to go. They also seem to be more expensive than the WRX for something with similar mileage.
Help me Oppo, you're my only hope.