I got quite a lot of responses to my posts over the weekend about the Worst Production cars sold in the US during the 2000s and 1990s. Instead of going back to the 1980s (which some of us are too young/not even born) I decided to go with just the very worst during your lifetime.
I've officially retired both the Daewoo Lanos and the Yugo GV(X) due to the fact that everyone has already picked them to death. They are now in that super special place reserved for the Hall of Fame of Cars Against Humanity.
Here's the nominees from those previous posts:
2001 Hyundai Accent 3dr (by me)
Notable Comment:
It had a place for a digital clock. Notice I said "place" and not actual clock. A digital clock, which can't cost more than a couple dollars, WAS OPTIONAL.
Ford Aspire (by EssExTee)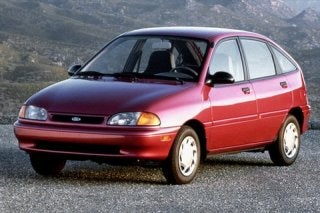 Notable Comment:
The only thing the driver of this car could "Aspire" to is dying in a crash to escape the misery that is this vehicle.
Toyota Paseo (by trynthink)
Notable Comment:
This car was also sold alongside the two-door Tercel, so presumably people who bought this new thought "I'd like to pay a significant amount of extra money to get a basic economy car with marginally improved styling." Ugh.
1991 Geo Metro Convertible (by me)
Notable Comment:
3 cylinders, 55 hp and a slushbox with three gears

Dodge/Plymouth Neon (by Jay Lauer)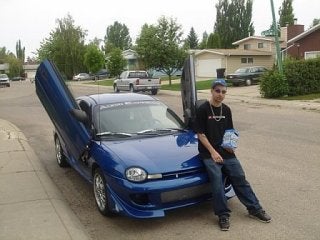 Notable Comment:
They actually had the audacity to make a Coupe version of this car. For someone who wants a sporty image driving his Neon. Horrible power, useless gear box, plastic by Hasbro, gaps you can lose your cat in. Utter shitbox.
Dodge Shadow (by feather-throttle-not-hair)
Notable Comment:
Hateful car from before America was really willing to believe small cars were the future.
Geo Storm (by, shockingly, Arch Duke Maxyenko, AVENGE ME!)
Notable Comment;
None. But I imagine he'd say something, something.....Pinto!
Dodge Caliber (by NotUnlessRoundIsFunny)
Notable Comment:
The Caliber was just like they took all the worst parts from different cars and somehow stuck them together, and then added stupid geegaws instead of getting the fundamentals right.
Suzuki Esteem (by EssExTee)
Notable Comment:
My vote for the worst car goes to the Suzuki no-self-Esteem, possibly the most forgettable car ever produced. They made eleventy-billion of them, but I have only ever seen one in person, at least that I can remember.
2014 Mitsubishi Mirage (by Dsscats)
Notable Comment:
Can confirm, it's almost as if Mitsubishi looked at the first generation Daewoo Kalos (Chevy Aveo) and thought: "This is a good idea!
Anything made by Pontiac in the 2000s (by epidemike)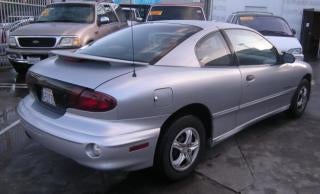 Notable Comment:
Anything made by pontiac, even the GTO. Aztek and Sunbird FTW
PT Cruiser (by fhrblig)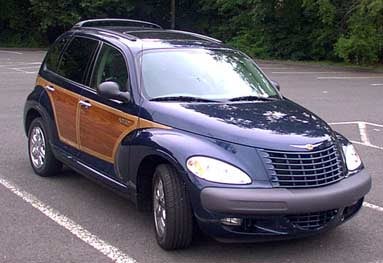 Notable Comment:
I always liked the idea and the design of it, but they had to give it that shitty 2.4 engine and terrible transmissions. It had so much potential that went to waste.
2012 Mitsubishi Galant (by JasonStern911)
Notable Comment:
Mitsubishi never had volume. a niche manufacturer refusing to make even incremental improvements beyond the stereo receiver only works if you have an ultra-desirable car to begin with, like a Lotus Elise. and unlike a manufacturer like BMW, the Galant was never best in class when it was released, so it wasn't like the other manufacturers were playing catch-up...
Chevrolet Malibu "Classic" (by Firewrx234)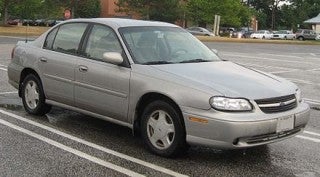 Notable Comment:
They had terrible power trains. The engines and transmissions disintegrate on command.
Chevrolet Aveo (by thebigbossyboss)
Notable Comment:
I have never even been in one...but they seem like they suck
Kia Sephia (by crazedclay)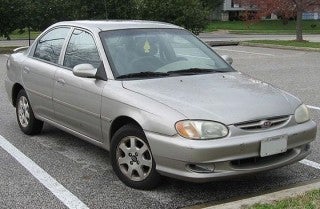 Notable Comment:
The Kia Sephia. Such a toilet. Such an awful and in humane penalty box. Made the Geo metro feel like a well appointed home.

When I was in used sales I took two obese women out in an automatic Sephia on a test drive. It didn't make it out of the lot. Couldn't handle the load.
The Coda (by MtrRider)
Notable Comment:
An electric car, made in China, based on a Chinese Hafai Seaboo, itself based on the 90s Mitsubishi Lancer. Slow, ugly, expensive and outdated years before it even went on sale.
Chevy Venture/Olds Silhouette/Pontiac Montana (by sellphones2493)
Notable Comment:
Simply because it's a family car, bound to have children in it. Yet, when you crash, you get this
So what do you say? One of these? Or are there even worse cars out there that people bought during your lifetime?