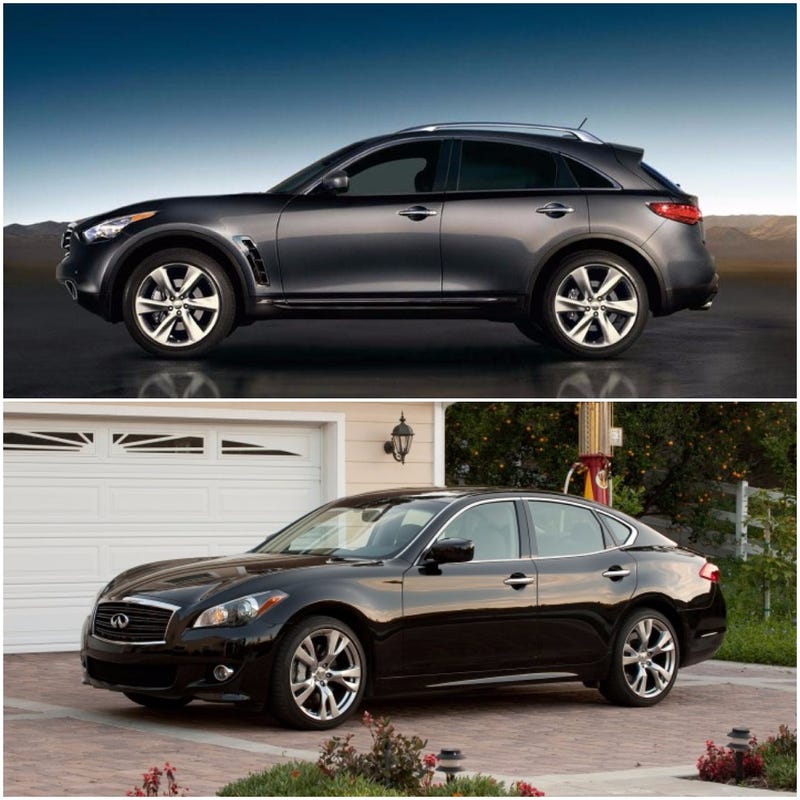 And why cant I either find a good one or one at all? For some weird reason my cousin, who's known to "ball on a budget", is looking for an Infiniti FX50 or M56, specifically the 09-15 FX50 with Nissan's surprisingly good VK50VE 5 liter nearly 400 horse V8 (and never used in anything else besides the the FX/QX70 and various LM racing cars) and the M56 with Nissan's 5.6 liter V8 (which is weirdly the only car to use the 5.6. Everything else is a truck or SUV). So I've been looking for one for him.
Now production numbers for how man FX50's were made cant be found anywhere from what I've seen. I even went so far as to go dig through the Infiniti forums. Nothing. And for some reason, FX's in general have high Miles on them used, especially the first gen before the redesign. I found 4 FX50's within 100 miles of us. Nationwide I only found 29.
The one with the lowest miles, just over 69k, the dealer still wants nearly 33 grand for it. I told him this price was a little high but hes attracted to it because its the lowest miles of any near us, and its the only one at an actual Infiniti dealer.
The M56 gets even "rarer". For one, there are none in the whole state of California used. Nationwide there are only 39. The closest one to us is this one, a thousand miles away in Washington. Its a CPO for 32 grand with 43 thousand miles on it. For whatever reason he would be willing to travel for one of these if he found the right price though he said. But with how both of these models are hit and miss pricing and mileage, I told him "bro there are way better cars for these prices. Its really not worth the hassle". But for whatever reason hes set on these 2 models. But does anyone know why they made so few? Specifically the FX?