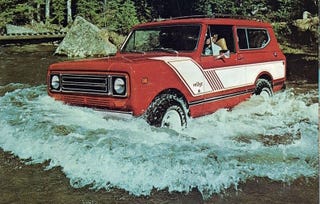 I've now melted two PerTronix Ignitor points-replaceers in my '75 Scout's distributor. If that means anything to you... help?
A PerTronix Ignitor is that little black box you see under my distributor cap here. It is air-gapped off that black collar below the rotor. The idea is it replaces the need for "points" somehow.
I learned (the hard way) that when you leave a vehicle with a PerTronix Ignitor with the key "on" but the engine not running, power keeps going to the distributor and melts the Ignitor.
Ok, common issue, I learned, so I got a new Ignitor. New distributor cap and rotor for good measure.
Hooked it up, triple-checked + was + and - was -, cranked the truck over, and a trail of smoke came out of the new Ignitor after maybe 30 seconds of cranking.
Now I guess I need another Ignitor... but I would rather not fry a third one. Any suggestions before I give up and get it towed to a real mechanic?