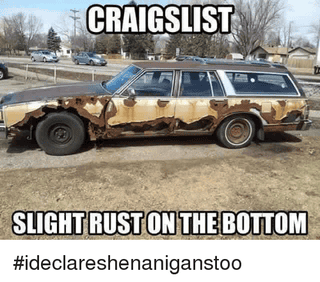 Craigslist has been very good to me. I've bought and sold good tools and fun vehicles, paid some fair prices, sold for fair prices. I even met my wife through Craigslist (yes, seriously). Certainly I've also dealt with my fair share of low-ballers, no-shows, tire-kickers and scammers, but on the balance my experience has been pretty positive.
The most bizarre experience I've ever had, was actually quite pleasant. Sometimes I'll toss things on Craigslist for a while that aren't particularly valuable. If they haven't sold after a couple weeks, I donate them. We replaced an ugly old white ceiling fan in my daughter's bedroom, so I posted it for $20 to get it off my front porch. I was going to donate it to a Habitat for Humanity ReStore if it didn't sell.
Well, it sold alright ... to a dude who made a three hour round trip to buy it ... down a toll road.
People are freakin' weird.