Had anyone sat down to engineer a biplane they wouldn't have been able to even create this little nugget of fun. No, Mr. Lynn Williams is an aviation artist first, creative thinker second, and then they engineered how this plane works last. The end Volkswagen powered result is extremely well built, with all kinds of fun unexpected performance. Then, Williams created fictional back stories of this "German WW1 plane."
For those of us readers that fly, we had a desire at one time to fly far and fast but we appreciate something that's not any of that. As un-automated as possible is the way to go sometimes. This appears to be the perfect tool for that desire.
In short, Lynn Williams always loved flying but after dismissing school, he turned to what he loved. Art. (take a look at this book cover)
He created the "Straaken Flitzer Z-1" out of a desire for romantic nostalgia and desire for fun in an inexpensive package. It was an artistic design first based on interwar year planes that were smaller and more refined wood and fabric, and then engineered to work second. The result is something that has solid engineering behind it thanks to the development team and you can build on your own quite easily as long as you don't mind working with wood, fabric and time and a twelve foot flat table. The artist himself drew up the plans. They are all frame-able pieces of art on their own.
But what you get out of it is a great experience of fun in a wood and fabric plane you can toss around without the problems of engines spewing castor all over the pilot. (You can't tell me you wouldn't like to spend some time in one of these)
Now, the Mythos:
Lynn couldn't just make a plane and sell plans. He hit something square on the head. Something nostalgic pilots wanted to see. It didn't have to be an exact replica of anything in history, it just had to replicate the feel of history. Fun and vintage looks and easy to build and maintain. What we have is a modern Cafe Racer airplane. Decent fun performance but nothing world shattering-and it does it in style. However, this is something people can make believe with. Go up, look for the Allies, and then come back having scouted the territories having burned about 4 gallons of gas. This is the make believe world the builders are getting in to. For an hour, you can be Manfred Von Löwenbrau of Jagdstaffel 17.
This is a 2180cc type-2 VW. (upside down for carb and exhaust install) They provide abot 70hp at 3,000 rpm direct drive. The plane is designed for 50-80hp and people usually go for the upper end. On that power, it takes off at 50mph and hits a top speed of about 90. honestly, that's not much less than what the real WW1 planes did early on in the war. Besides, the direct drive and un-muffled exhaust makes for a realistic sound and feel when flying around.
(3 of the 11 completed Flitzers in England)
Mr. Williams is in the process of creating some wonderful print story about a Zeppelin airship with several small Flitzers deploying on it's mission to discover the hidden treasures of Antartica. You see, something that looks the part and flys the part and is all kinds of fun can re-invent itself with it's own mythos from the minds of anyone involved.
All you need is a little bit of time here and there, a little bit of wood, and a little bit of beer and imagination to help clamp the glued wood. total cost to build? Well, if you scrounge right for the right parts and pieces and are a bit handy, $10,000? $15k if you go for a bit more power...and lots more if you got for a 7 cylinder Radial of 110hp.
And you have yourself a little bit of fun for the price of a decent used car....but it's a war machine to hunt the Allies! (Look for this one to protect Connecticut soon.)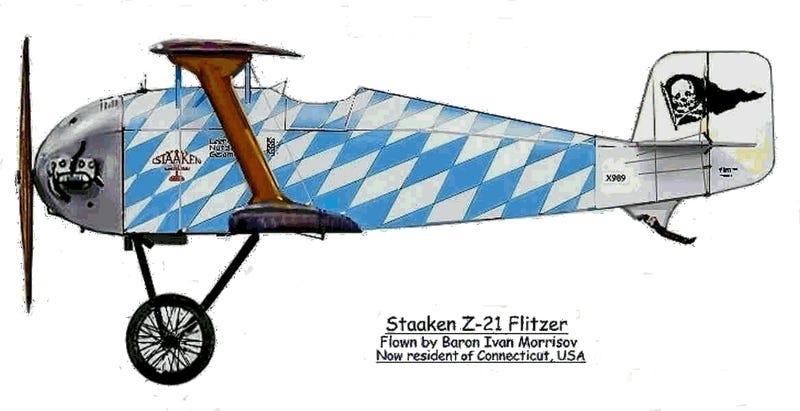 Also, in the future, we can expect to see the other fictional nostalga planes come out of Mr. William's mind. A replica 30's era racer and a Rotec Radial cross-country racer replica. All generic replicas but I don't have a problem with that. Everything looks fantastic.