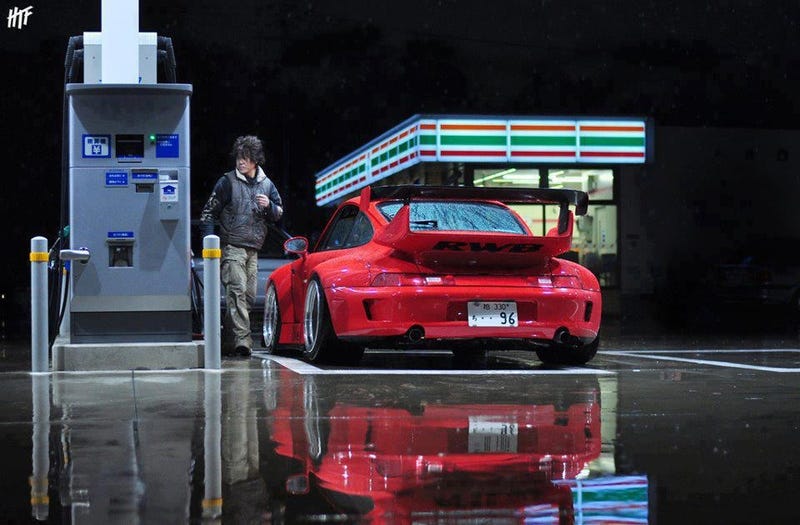 An RWB Porsche isn't something you just glance at. You stare, you examine it, and you have a strong opinion about it, whether it be good or bad. Nakai San dangerously walks the line between sublime and ridiculous with the RWB kit, and he knows exactly where to step.
Now that I've scared the purists off, let's talk design. It's wide, it's aggressive, and it's something I could stare at all day long. I personally prefer the look of the kit when it is molded, it looks much more understated than when the rivets are exposed. It's like seeing a bodybuilder in a suit instead of a speedo. If you use the recommended SSR professor wheels you can have 10.5 inches of wheel up front on a 265 tire and a massive 13 inches of rubber out back on a 335 tire. The specific offsets of the wheels allows for an amazing stance without the need for spacers.
Speaking about stance, the suspension is a custom RWB coilover kit made by Aragosta. You can run a more conventional coilover like PSS10's, although I'd prefer to let the masterminds at Aragosta tailor the suspension to my car. After all, they've managed to perfect the suspension on the already great R35 GTR.
An RWB Porsche is made to be driven. The ride height may look low, but believe me when I say these cars are being used how Ferdinand Porsche would have wanted. It saddens me to admit that the few RWB's in the USA aren't being tracked, but Nakai San himself is a testament to the fact that these are still drivers cars. His personal 930 features a full RWB kit and a Miata like weight of 2100 pounds.
Nakai San started RAUH-Welt, or Rough world, after getting his first car. When he started driving German cars, it transformed into "Sekund Entwicklung (second development) RAUH-welt Begriff" which eventually became known as RWB. Nakai views a persons car as their treasure, and because of that they have to be special. The quality that goes into each car is unreal. Nakai is the only person who does this. You want an RWB kit? Pay the $20k for the kit and Nakai will personally fly out and perform all the labor wherever in the world you are. His work ethic is crazy. He'll complete a car in 4 days, fly to Dubai for another car, and then fly to California to complete yet another car. He'll flawlessly work a 13 hour day making sure your car is perfect.
"What's the point of racing a car that doesn't look cool?" Nakai asks. Cool is an understatement.
Nakai refers to his 930, known as Stella Artois, as his first and last 930. RAUH-welt begriff has helped me fall in love with Porsche. I hope to one day meet Nakai and marvel in his work as he builds my future Porsche, which I plan to keep forever.