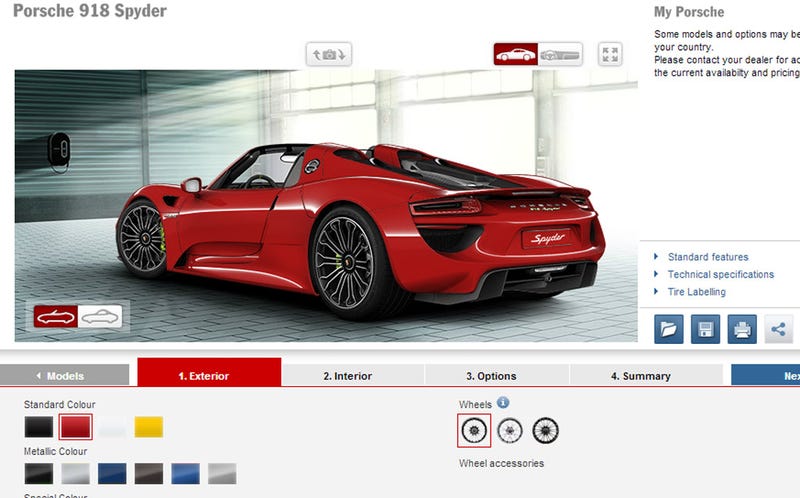 With the latest news of upcoming Porsche models in the past 24 hours, I started to think about that $120k Porsche Boxster that someone optioned and has subsequently became infamous. For the record, to pay 120k$ for a Porsche Boxster is another level of crazy. The least Porsche could do for you at that point is buy you a table dance or hell, an old Panzer or something. Now that that's cleared up, I want to officially say "Thank You" to Porsche for at least giving us the option to let our imaginations run wild and configure such monstrosities.
It is my belief that most people truly do not understand just what goes into making a car now a days. This isn't the 60s, you don't go to chevrolet pick options and pay the down payment and then wait a month and pick up your new custom car. You still can, almost any dealer will option out a specific car to your specific needs, but unless it is the normal options in the brochure just watch how "Porsche-like" your car's price becomes. I conducted an experiment recently to see how it would play out. I decided on an Audi S5 Prestige with manual transmission, tobacco brown leather interior, electric green seat belts, leather topped dash, R8 wheels, and a very specific shade of blue that matched my Ray Bans to a T. I went to the dealer, sat down with a sales rep, showed him my sunglasses, gave him my list and I told him I was willing to wait however long it would take once I had a proper invoice and could decide if it was worth it. Here are some excerpts from the email the sales rep sent me back:
Mr. Vee,

The 2014 Audi S5 Prestige is the ultimate expression in automotive excellence and [dealer redacted] Audi of the [location redacted] area would love to be your dealer of choice to get the exact Audi S5 Prestige you desire...

...The Base Price of the 2014 Audi S5 Prestige is $52,800 + taxes and fees...Neon green seat belts with the dark brown leather interior is at a cost of $1876...A leather topped dashboard will be fitted at a cost of $4762...The wheel choice you have chosen is a dealer installed option and as such can be purchased separately from the dealer (in addition to the standard S5 Prestige wheels) at a cost of $5300 per wheel + $675 per tire (for a total of $23900)...The paint code you have chosen will be applied at a cost of $4346...

...If you have anymore questions, please do not hesitate to call me at the dealership [number redacted] or my personal cell phone [number redacted], I look forward to beginning a wonderful relationship between our two families...
Now this salesman must have been foaming at the mouth in anticipation of a potential sale of this magnitude. I mean who wouldn't? There is $34,884 dollars worth of options for a grand total of $87,684! Now when you compare that to a Boxster S, I got the same exact options (colored seat belts, paint to sample, 911 Turbo wheels, leather dash) for a grand total of ~$13,000. Now I'm not saying that 13000$ is a small amount of money, but when you realize that every car company offers some sort of customization method and they charge much more for the chance to make your car truly your own, you can start to see why Porsche's options are actually reasonable.
The reason for this? Importation and market understanding. Not everyone buying an Audi or Porsche wants green or yellow seat belts, or would even notice that a dashboard was covered in leather, but almost all of them probably want a navigation system, and cruise control and power windows/locks etc. So that's why we get packages, when the only variable on a car is one of two packages and a handful of colors, the cars buzz through the production line extremely quick and can be sent to different markets relatively cheaply. But when I tell Audi that I want green seat belts, they have to take the car off the production line at the seatbelt phase and a worker has to specifically bring in green nylon belts and install them for my particular car. That takes time, time equals money. Porsche customization is sort of a red herring in the auto market, almost every Porsche comes with the same options, but because there aren't many "trim levels" or "packages" they tend to not get them in uniform distribution. All of them will have the navigation and phone modules, but only some will get the chrono while some will get the factory exhaust. Because of this, dealers have to take a stab at which options and models will sell the best and only order those ones. Make no mistake, the crazy color options and leather and carbon fiber options are completely custom, but Porsche is upfront about the cost so you as a consumer can have an exact idea of what you will be paying. It's transparent, it isn't price gouging, it is honest. Porsche's are expensive, and if you want one that is truly yours it is going to cost even more, that's just the way it is.
So thank you Porsche, thank you for offering all of these customizations and making it reasonably easy to get them. In a world where every car is white, black, or silver and has a beige or black interior, I truly would like some green seat belts. I think it'd be refreshing and cool and the thought of a Mocha Brown 911 with racing yellow wheels increases pressure in places that aren't fit to be spoken of. I probably won't be able to afford one of your custom cars in the foreseeable future, but it's nice to know that when I can, I can get the exact Vee Edition 911 that I've always imagined.